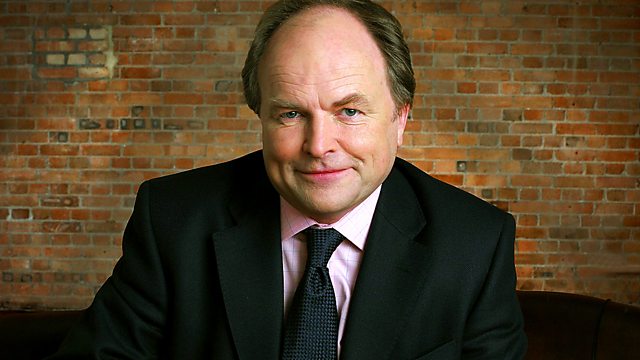 31/12/2011
Clive Anderson and guests bid farewell to 2011 from the Radio Theatre.
Clive will be going head to head with Griff Rhys Jones, who in the eighties, teamed up with Mel Smith in 'Not the Nine O' clock News' and 'Alas Smith and Jones'. Griff's new show 'The One Griff Rhys Jones' is part of a series of programmes pioneered by Ronnie Corbett in 'The One Ronnie'. Griff will be joined by Mel to reprise their famous head to head sketch on January 16th on BBC One.
After celebrating Christmas with 'Rev', Olivia Colman will be talking to Clive about her comedy roles in 'Peep Show' and 'Green Wing'. Recently praised for her serious acting, starring as an abused wife in Paddy Considine's award-winning 'Tyrannosaur', Olivia now finds herself acting with Meryl Streep as she plays Carol Thatcher in 'The Iron Lady'.
Meanwhile, over in the comedy corner, Arthur Smith will be talking to the maestro of suburban absurdism, Sam Simmons. Pitched somewhere in the no-man's land between psychotic breakdown, ground-breaking genius and outer space, Sam's Soho Theatre show 'Meanwhile' is a comedic trip to the furthest reaches of humanity!
Clive will be spinning 'The Wheel Of Fortune' and talking to award-winning actor and TV presenter Bradley Walsh, who will be bringing some much-needed 'Law & Order' to the Radio Theatre and telling Clive about playing DS Ronnie Brooks in the sixth series of the ITV 1 drama. Following that arresting performance, Bradley will also be giving Clive tips on how not to keep a straight face on a TV gameshow!
Ay Caramba! Cuban cats 'Ska Cubano' will be offering some musical mambo madness and raucous rumba by performing the title track of their album 'Mambo Ska' and a second helping of samba with 'Soy Campesino'.
Producer: Cathie Mahoney.
Last on