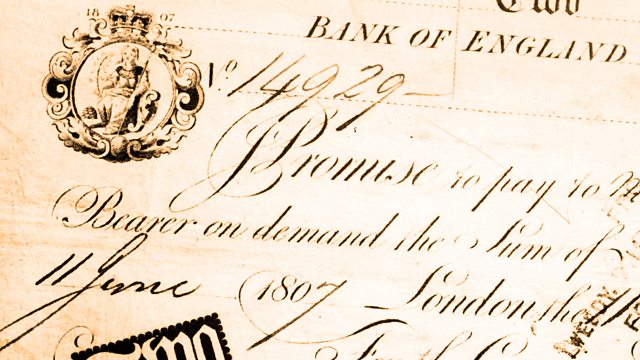 The Million Pound Bank Note
The Million Pound Bank Note by Mark Twain
dramatised by Bryony Lavery
Stranded in London, a penniless young American becomes the subject of a £20,000 bet between two wealthy English gentlemen. Can he can survive and prosper for a month as the bearer of a 1,000,000 pound bank note? A colourful, bright and vivid dramatisation of this charming and surprisingly relevant classic short story, first published in 1893. Brimming with Mark Twain's gentle humour, Henry Adam's plight is sure to entertain family audiences.
Produced by ...... Pauline Harris and Sharon Sephton
Tony Award winning playwright Bryony Lavery presents a rhythmic, energised dramatisation of this classic
short story.
Last on
Credits
| Role | Contributor |
| --- | --- |
| Henry Adams | Trevor White |
| Miss Portia Langham | Verity-May Henry |
| Trubshaw | Conrad Nelson |
| Bosun | Conrad Nelson |
| Vesuvius | Conrad Nelson |
| Basil | Jonathan Keeble |
| Mr Raymond | Jonathan Keeble |
| Majordomo | Jonathan Keeble |
| Abel | Malcolm Raeburn |
| Concierge | Malcolm Raeburn |
| Mrs Harris | Kathryn Hunt |
| Tod | Stephen Hoyle |
| Bellboy | Stephen Hoyle |
| Lloyd Hastings | John Guerrasio |
| American Ambassador | John Guerrasio |
| Producer | Pauline Harris |
| Producer | Sharon Sephton |
| Adaptor | Bryony Lavery |
| Author | Mark Twain |