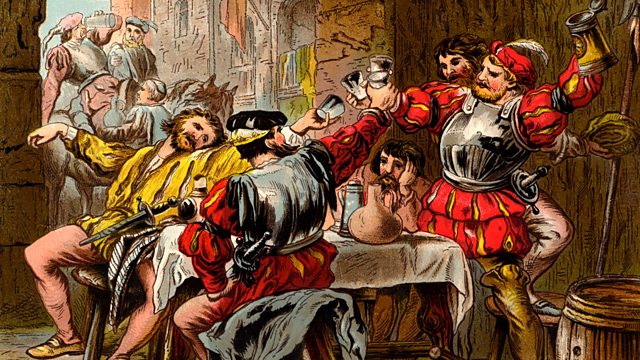 Cheers!
For New Year's Eve, John Sergeant invites his guests to a musical celebration of the ancient art of toasting. The programme is recorded in Clare College Cambridge, in the fellows' Senior Combination Room, with its wood panelling and huge fireplace.
Toasting has a fascinating history. The way you toasted revealed your politics - whether you were for or against the monarchy, and which political party you supported. It wasn't just the rich who toasted - farm labourers had elaborate ritual toasts for harvest time (they toasted in cider). Men toasted women, of course - women could even become known as "a toast", which was tantamount to being called a slut.
John Sergeant hosts a party and invites three food and drink historians to tell stories about toasting in the past: Scottish wine buff Billy Kay, food historian Ivan Day, and Professor of Literature Judith Hawley. There is also music during the party: toasting songs arranged by David Owen Norris and performed by student members of the Clare College Choir. These include drinking songs 'For Auld Lang Syne' and 'Here's a health unto his Majesty', as well as a revolutionary toast sung by English supporters of the French Revolution. There is also a sexy musical toast from the 17th century to a woman with wonderful thighs.
We may have forgotten the history of toasting, but something of it remains deep in our collective memory, when we look each other in the eye and chink glasses. Cheers!
Produced by Elizabeth Burke and Hilary Dunn
A Loftus Audio Production for BBC Radio 4.