Sherlock
Sherlock Holmes and Dr John Watson's adventures in 21st Century London. A thrilling, funny, fast-paced contemporary reimagining of the Arthur Conan Doyle classic
On iPlayer
This programme will be available shortly after broadcast
Four new adventures – a special and a new series of three episodes. The game is on again!

Sherlock has been gone for two years. But someone isn't quite convinced that he's dead...
Video Interview: About Magnussen
Video Interview: The Wedding
Cast and crew on Sherlock's best man speech, how things will change for Sherlock and John, and Martin Freeman and Amanda Abbington on working together.
Watch the video
Video Interview: About the Fall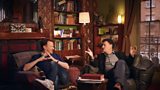 Cast and crew reveal the secrets behind the fall. With Benedict Cumberbatch, Steven Moffat and Mark Gatiss.