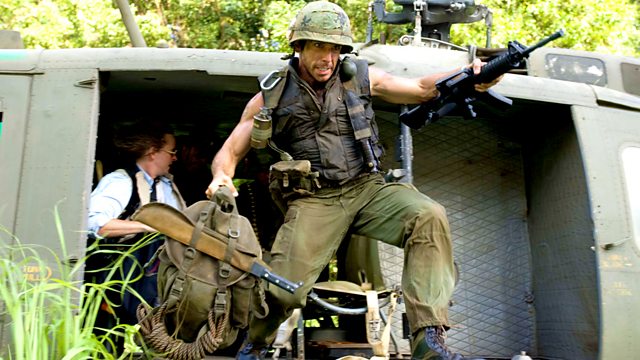 Tropic Thunder
Action comedy. While shooting the epic Vietnam War film Tropic Thunder, the production quickly derails thanks to the gigantic egos of everyone involved in the production - Tugg Speedman, an action hero trying to segue out of that genre and Jeff Portnoy, a drug-addicted fat comic also attempting to change his image by taking on such a serious film. They star alongside five-time Oscar-winner Kirk Lazarus, a man who insists on immersing himself totally in a role.
Tropic Thunder on BBC iPlayer
This programme is not available on BBC iPlayer. Programmes are unavailable for a number of reasons including technical problems, legal or contractual issues or because we do not make all of our content available on BBC iPlayer..
Credits
| Role | Contributor |
| --- | --- |
| Tugg Speedman | Ben Stiller |
| Jeff Portnoy | Jack Black |
| Kirk Lazarus | Robert Downey Jr |
| Damien Cockburn | Steve Coogan |
| Kevin Sandusky | Jay Baruchel |
| Cody | Danny McBride |
| Alpa Chino | Brandon T Jackson |
| Rob Slolom | Bill Hader |
| Four Leaf Tayback | Nick Nolte |
| Snooty Waiter | Jeff Kahn |
| Platoon Sergeant Shot in Head | Anthony Ruivivar |
| Chopper Pilot | Eric Winzenried |
| Damien's Assistant | Valerie Azlynn |
| Rick Peck | Matthew McConaughey |
| Les Grossman | Tom Cruise |
| Director | Ben Stiller |
| Writer | Justin Theroux |
| Writer | Ben Stiller |
| Writer | Etan Cohen |