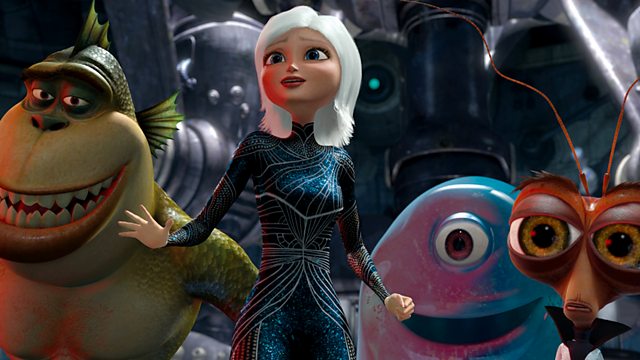 Monsters vs Aliens
Sci-fi animation in which a group of so-called monsters take on an extraterrestrial invasion force. When Susan Murphy is unexpectedly hit by a meteor full of outer space gunk, she mysteriously grows to over 49 feet tall. Captured by the military and labelled a monster named Ginormica, she is held in a secret government compound with a variety of other 'monsters'. When an evil alien attacks the Earth, this motley crew of monsters is called into action to save the world from imminent destruction.
Featuring the voices of Reese Witherspoon (Susan Murphy/Ginormica), Seth Rogen (BOB), Hugh Laurie (Dr Cockroach PhD), Will Arnett (The Missing Link), Kiefer Sutherland (General W R Monger), Rainn Wilson (Gallaxhar), Stephen Colbert (President Hathaway), Paul Rudd (Derek Dietl), Julie White (Wendy Murphy), Jeffrey Tambor (Carl Murphy), Amy Poehler (Computer) and Renee Zellweger (Katie).
Credits
| Role | Contributor |
| --- | --- |
| Writer | Conrad Vernon |
| Writer | Glenn Berger |
| Writer | Maya Forbes |
| Writer | Wallace Wolodarsky |
| Writer | Rob Letterman |
| Writer | Jonathan Aibel |
| Producer | Lisa Stewart |
| Director | Rob Letterman |
| Director | Conrad Vernon |
Featured in...
Great family shows to watch with the kids (unless you're just a big kid yourself...)

Catch up with the most thrilltastic half term of all time, Shocktober only on CBBC