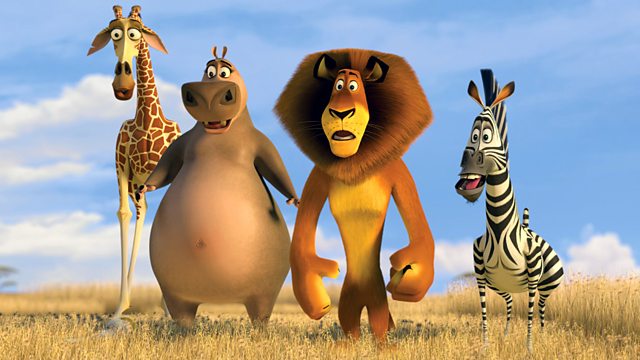 Madagascar: Escape 2 Africa
Animated adventure sequel, continuing the adventures of the animals from a New York zoo who have become trapped on the African island. While attempting to fly a plane back to New York, the animals crash-land in mainland Africa, where they are amazed to be reunited with more of their own kind and, in some cases, their actual families. Unfortunately, life in Africa is not what it first seems, with Alex soon falling foul of lion etiquette and the humans causing problems for all of the wild animals of the Savannah.
Featuring the voices of Ben Stiller (Alex the Lion), Jada Pinkett (Gloria the Hippo), David Schwimmer (Melman the Giraffe), Chris Rock (Marty the Zebra), Cedric the Entertainer (Maurice the Aye-Aye), Andy Richter (Mort the Lemur), Sacha Baron Cohen (King Julien the Lemur), Bernie Mac (Zuba the Lion), Alec Baldwin (Makunga the Lion), Chris Miller (Kowalski the Penguin) and Tom McGrath (Skipper the Penguin).
In the original film, Four New York Zoo animals become stranded in the Madagascar jungle.
Credits
| Role | Contributor |
| --- | --- |
| Producer | Mireille Soria |
| Director | Eric Darnell |