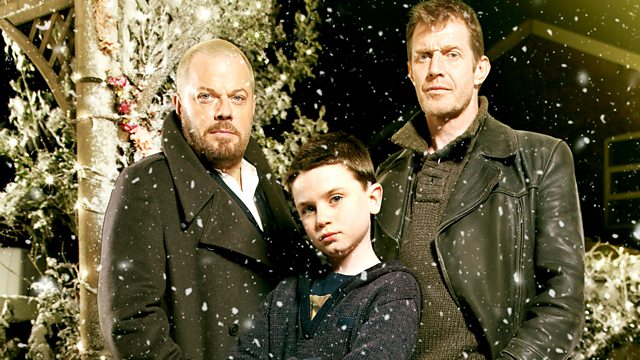 Lost Christmas
An urban fairy tale from the backstreets of Manchester.
On Christmas Eve, everyone is getting ready excitedly for the big day - everyone, that is, except Anthony, a strange, enigmatic being who wakes up in the street, not knowing where he is or what he's there to do. Anthony has a remarkable ability: the power to find the lost.
But is Anthony's ability real, or just an illusion? Who is he and why has he ended up in Manchester at Christmas, just as the snow begins to fall?
Credits
| Role | Contributor |
| --- | --- |
| Anthony | Eddie Izzard |
| Frank | Jason Flemyng |
| Dr Clarence | Geoffrey Palmer |
| Goose | Larry Mills |
| Helen | Christine Bottomley |
| Nan | Sorcha Cusack |
| Henry | Steven Mackintosh |
| Linda | Connie Hyde |
| Paul | Brett Fancy |
| Lal | Adlyn Ross |
| Alice | Chloe Newsome |
| Noel Noble | Jason Watkins |
| Jemma | Jessie Clayton |
| Milly | Libbi Rubens |
| Young Mother | Helen Rutter |
| WPC | Danielle Henry |
| PC | Robert Lonsdale |
| Tagga 1 | James Varley |
| Tagga 2 | Dwayne Scantlebury |
| Young Guy | Scott Wesley |
| Antiques Expert | Stephen Aintree |
| White-Haired Lady | Enid Dunn |
| Producer | Elliot Jenkins |
| Director | John Hay |
| Writer | John Hay |
| Writer | David Logan |