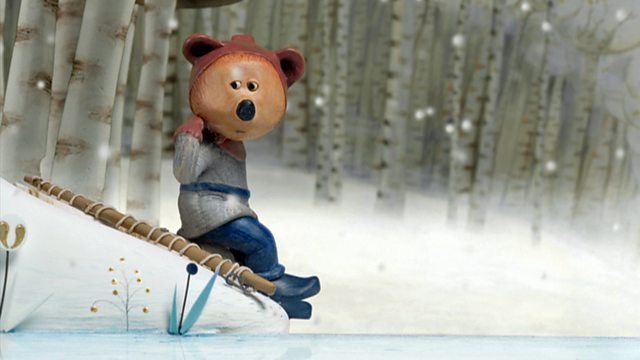 Leon sa Gheamhradh/Leon in Wintertime
Tha fuachd a gheamhraidh air tighinn gu tìrean Rìoghachd Balthasar agus cuide ris, tha an creutair iarghallta, an Uilebheist a tha airson a' bhana-phrionnsa Molly ithe ann am brot pheasairean. Tha e an urra ri Leon, mathan beag mollach a tha air teicheadh bho dhachaigh fhèin, a' bhana-phrionns' a shàbhaladh. Feumaidh Leon teicheadh bhon sgeulaiche seòlta, Bonafacio airson a dhol air toir an uilebheist ann an cuideachd a charaidean ùra, gràineag ghreannach agus ailbhean luideach.
Wintertime has hit Balthasarville and along with it a horrible ogre has come to kidnap Princess Molly and eat her with his pea stew. It is up to Leon, a young bear who has run away from home and has ended up a the mercy of a mischievous storyteller, to save her. Along with his new friends, a grumpy hedgehog and an accident prone elephant, the brave bear embarks on a quest to find the poor princess.