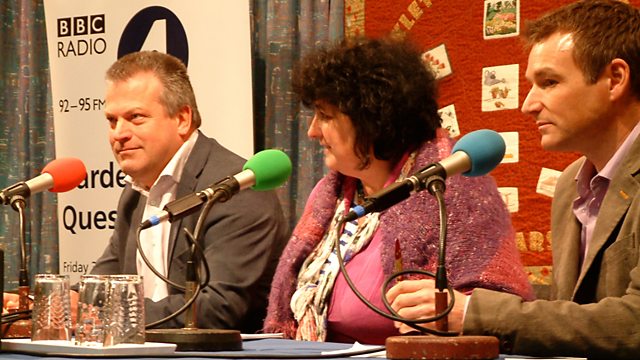 Mickleton, Gloucestershire
Listen in pop-out player
Peter Gibbs chairs a forward-looking programme from the village of Mickleton. On the panel are Chris Beardshaw, Matthew Biggs and Pippa Greenwood. In addition, what makes a grafted plant send out suckers? Why you should mind your French when talking about medlar fruit.
Also includes the GQT quiz and an insight into becoming a garden volunteer.
Produced by Howard Shannon
A Somethin' Else production for BBC Radio 4
Questions answered in the programme:
I hear the Queen requires new gardener. How do I make my CV stand out?
Apparently Japanese Knotweed has medicinal properties. How to grow in containers?
Why do all professional gardeners tell us to plant tulip bulbs 5 or 6 inches deep? Mine do fine at 2 inches deep
When & how do I harvest medlar?
Less traditional planting suggestions for hanging baskets.
Scaevola, Begonia Rex and Aglaonema were all discussed.
When planting new tree how do you stop it throwing out suckers?
What would you grow with a young novice gardener to encourage them?
Which UK region has the best conditions for growing fruit and veg?
Which gardening trends will define 2012?
Last on
New Year's Day 2012
14:00