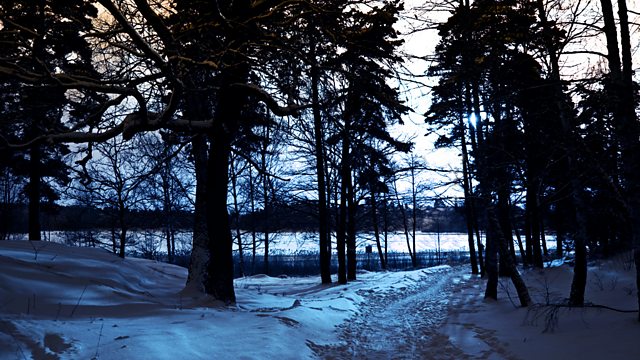 Stopping by Woods
The poem 'Stopping By Woods On A Snowy Evening' was written about nightfall on the shortest day of the year, though it was actually put to paper at dawn on June 21st, 1922 - the longest day. This has always puzzled Kenneth Steven, a poet captivated by Robert Frost's seemingly effortless mastery of rhyme, metre, language and imagery.
Kenneth Steven visits the poet's home in Shaftesbury, Vermont, now a museum. He talks to the curator there, Carole Thompson, and a pair of Frost scholar, Lea Newman and David Sanders, and he walks the very woods that are possibly evoked by the horseman who pauses to watch the snow settle, despite having "promises to keep/And miles to go before I sleep".
He makes a pilgrimage to Frost's final resting place in a New England cemetery - his gravestone covered in glinting pennies left by fellow pilgrims - and he reveals compelling new insights into the origins and impact of the poem which Frost himself considered his "best bid for remembrance".
Produced by Alan Hall
A Falling Tree production for BBC Radio 4.