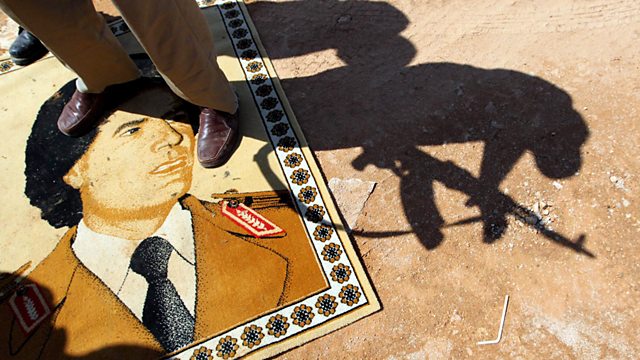 Counter Revolution (Libya)
Listen in pop-out player
The experience of protesters in Libya proved to be the opposite of their counterparts in Egypt and Tunisia. After Egypt's President Mubarak fell, many assumed that all you had to do was organise using social media, occupy, push hard and the hollow regime would fall. Colonel Gaddafi had other ideas. He was determined to crush the revolution. Jeremy Bowen hears from some of those who were caught up in the conflict
Bowen first met Salem al-Faturi at a funeral for someone who had been killed after government forces opened fire on protesters in a suburb of Tripoli. The regime's use of killings, beatings, arbitrary arrests and torture provoked violent resistance. Salem, an accountant with Price Waterhouse Coopers, became a gun-runner and describes how he would buy weapons, which were stolen from a military warehouse, and smuggle them through army checkpoints, hidden inside his car door. He still keeps a Kalashnikov in the boot of his car, together with two home-made pipe bombs. Everybody in Libya, Salim says, is interested in weapons now.
Jeremy Bowen was among the last journalists to interview Colonel Gaddafi. He describes how he was rushed to a secret location by one of the Colonel's nephews. The BBC journalist stopped to ask if he could put on a suit.
'No,' said his minder: 'It's war. Jeans are fine.' Gaddafi thought that people were prepared to die to protect him. Some were, but many others were prepared to die to bring him down. Mohammed al-Ziani was caught attempting to bomb an army checkpoint. He was taken to Abu Salim, Libya's notorious jail, where he was beaten and tortured along with other opponents of the regime, including lawyers and doctors. Mohammed goes back to the jail with Jeremy where he says he learnt many things that will help him in life: 'How to be patient, how to not lose faith . . .You know beating Gaddafi was something like impossible. But we was believing it.'
The programme ends with celebrations in the centre of Tripoli in Martyrs' Square. But Gaddafi had his supporters, including a young woman called Noor Saied who helped translate for foreign journalists. She tells Jeremy Bowen that people still love him but are afraid of saying so.
Producers: Cara Swift and Mark Savage.
Last on
Investigating British Foreign Secretary William Hague's vision for the Arab world.

The mountain Berbers of Libya fighting for their culture and their lives against Gaddafi.