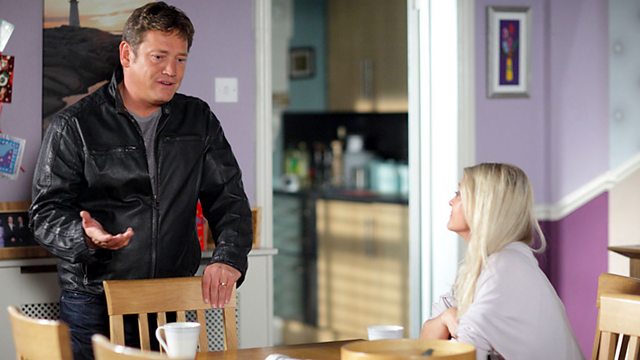 13/12/2011
Phil remains suspicious that Heather is the stalker, despite Shirley's protestations. Phil's paranoia increases when another letter arrives containing a newspaper clipping about Steve Owen's death. Shirley confronts Heather, insisting she tells the truth before maintaining to Phil she must have been set up. Roxy convinces Phil that Jack is behind it all, leading Phil to make a call, reeling off Jack's licence-plate details to somebody who 'owes him a favour'. Phil is in an uncharacteristically good mood in the Vic, the reason becoming clear when Jack notices his car is missing, only for it to turn up, crushed into a cube. Phil warns Jack that next time it won't just be the car that gets crushed.
The Butcher's face repossession proceedings but are thrown a lifeline when Pat receives news that Ricky is coming home early. Arriving back in Walford, Ricky bumps into old friend Mandy, admitting to her that he's broke. As Ricky comes home to a warm welcome, the atmosphere changes when everyone realises they are not in the clear yet.
Andrew Cotton arrives on the Square, intervening when Shirley confronts Heather over the envelopes. Later, Andrew pays a visit to Rose and Dot, insisting it's only a flying visit but changes his mind following a rejection from Heather.
The Moon's try to convince Jean to take the rap over the benefit fraud allegations but she is determined not to have her name dragged through the mud. Jean's mood is elevated when she gets a text off Stacey, which Kat uses to guilt trip her into taking the blame.
When Lauren gets drunk in the Vic her behaviour concerns Whitney but when she tries to stop her going home with Tyler, Lauren blurts out that her mum has cancer; she can do what she wants.
Last on
Credits
| Role | Contributor |
| --- | --- |
| Phil Mitchell | Steve McFadden |
| Shirley Carter | Linda Henry |
| Roxy Mitchell | Rita Simons |
| Jack Branning | Scott Maslen |
| Carol Jackson | Lindsey Coulson |
| Pat Evans | Pam St Clement |
| Tiffany Butcher | Maisie Smith |
| Liam Butcher | James Forde |
| Ricky Butcher | Sid Owen |
| Mo Harris | Laila Morse |
| Jean Slater | Gillian Wright |
| Kat Moon | Jessie Wallace |
| Alfie Moon | Shane Richie |
| Anthony Moon | Matt Lapinskas |
| Tyler Moon | Tony Discipline |
| Lauren Branning | Jacqueline Jossa |
| Whitney Dean | Shona McGarty |
| Arthur 'Fat Boy' Chubb | Ricky Norwood |
| Dot Branning | June Brown |
| Rose Cotton | Polly Perkins |
| Heather Trott | Cheryl Fergison |
| Ian Beale | Adam Woodyatt |
| Mandy Salter | Nicola Stapleton |
| Executive Producer | Bryan Kirkwood |
| Director | Karl Neilson |
| Writer | Christopher Reason |
| Andrew Cotton | Ricky Grover |