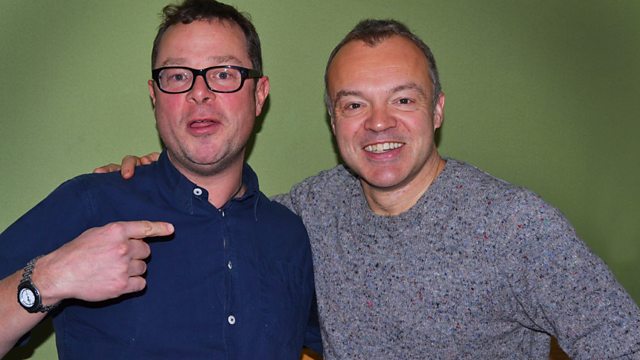 with Sharon Gless & Hugh Fearnley-Whittingstall
In the latest show from British Comedy Award-winning Graham Norton (sorry, couldn't resist) Cagney & Lacey star Sharon Gless dropped by to reveal why she doesn't think the iconic show will come back, chatted about sex for sexagenarians and revealed why thieves were only interested in Christine's clothes....
River Cottage chef Hugh Fearnley-Whittingstall immediately ingratiated himself to Graham and the production team by bringing in some delicious 'Cambodian Wedding Day' dip. When they didn't have their mouths full, he and Graham discussed making veg sexy, Christmas cooking tips and Graham's Mum using Hugh's fish pie recipe.
Listener 'Louisa' evoked memories of 'Crossroads' - you just know this isn't going to end well - with her 'I Can't Believe It's Not Better' choice - Simon May's 'The Summer Of My Life'. And she may also have contributed to many people's 'Worst 3 Minutes Of My Life'...
In this week's Grill Graham, McErlane & Mr Norton offered advice for a listener's husband who was a real Grinch when it came to decorating the house, and a concerned granny who fretted about whether her 19 year old grand-daughter was too old for presents.
And after 12 o'clock Peter Nicklin in Preston picked the spooky 'Laurie (Strange Things Happen)' by Dickey Lee as his 'Tune With A Tale'. That's enough about ghosts for one year, thank you very much *hides under blanket*.
Last on