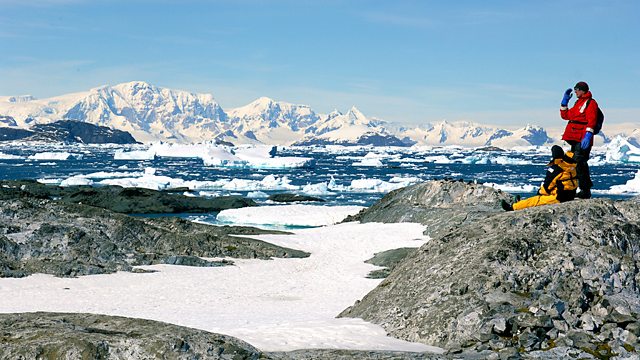 How Not to Make Ice Cream in Antarctica
To mark the centenary of Roald Amundsen's arrival at the South Pole (to be followed a month later by Captain Scott), this series of the Essay is presented by professionals who have lived and worked in Antarctica.
A scientist who still regularly spends time on the icy continent, Jane Francis has found direct correlations between the geology studied by Captain Scott 100 years ago and her own work today.
Jane describes her normal geological field day in Antarctica:
"I am preoccupied with three things: the rocks and the geology that I am there to study; the risk of snow storms; and what we are going to have for dinner!"
Food is an obsession for ever-hungry field geologists, so planning innovative ways of serving up exciting meals from the rather dull contents of a field ration box is a constant challenge. Special occasions such as birthdays and Christmas demand extra inventiveness. Long hours trapped inside a tent during a blizzard are perfect times for experimentation.
"Nothing is ever a failure because it all gets eaten anyway, but one particular recipe sticks in mind - the ice cream that would not freeze."
Jane Francis is Professor of Paleoclimatology at Leeds University. In 2002 she was awarded the Polar Medal for her contribution to British research in the Polar Regions, her work on fossil plants, and the ancient climates of the Arctic and the Antarctic.
Producer Chris Eldon Lee
A Culture Wise Production for BBC Radio 3
First broadcast in December 2011.
Last on