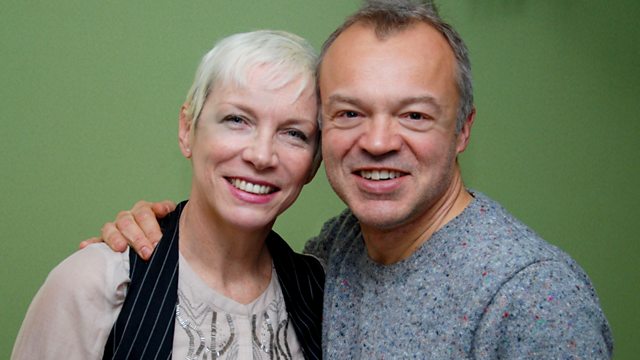 With Annie Lennox & Mick Hucknall
Becoming the first return visitor to the show, Annie 'Former Barclay's Woman Of The Year' Lennox made her annual Christmas jaunt to Graham's Radio 2 show, chatting about her new festive single. Plus, as an extra special treat, she performed 'In the Bleak Midwinter' - one of Graham's favourite songs - exclusively live.
After 12 o'clock Mick Hucknall popped in to chat - also about a Christmas offering - as well as covering such diverse topics as Manchester United, standing in for Rod Stewart and being killed off by Twitter.
'Postmistress Of Pain' Maria McErlane was on hand once again (when she wasn't slating Graham's BBC1 Christmas advert) to help with a pair of difficult dilemmas in this week's 'Grill Graham'. Listener Nicola was looking for a subtle way to tell her best friend to back away from her boyfriend, while Michael - who is unhappy living in Brussels - wanted to know whether to move back to Blighty.
The revolting record in this week's 'I Can't Believe It's Not Better' slot was chosen by Adam Hurst in Stratford, picked from a period when records were bought in buckets. Which is exactly where 'Welcome Home' by Peters & Lee should have stayed...
And ELO's 'The Diary Of Horace Wimp' was the latest 'Tune With A Tale', as a very nervous Ged Gunn recounted this inspirational tale in between praising Annie Lennox, worrying about his wife's new red hair and pacing his living room.
Last on