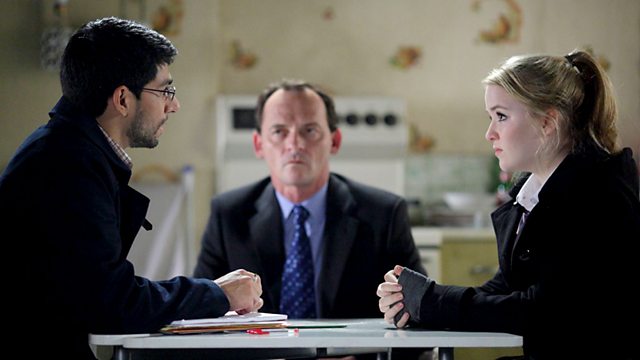 28/11/2011
A drunken Rainie finds Tanya on Arthur's bench. Struggling to accept what Tanya did to their dad, Rainie cruelly tells her she hopes the cancer has spread and there's nothing they can do for her. Abi worries why Lauren was told but not her, Tanya assuring her it's because she didn't want to upset her. Lauren and Cora are put out when Tanya chooses Max to accompany her to the hospital but none the less supportive as they see them off. Cora reminds Max of his responsibilities now. Before they leave Tanya is touched by some kind words from Dot. As Tanya prepares for chemo Max promises her that he'll be there for her day and night. Back at home Lauren turns to alcohol, Abi informing her sister that she's scared too.
Carol coldly warns Roxy off as she tries to say hello to Amy. Meeting her brief Jimmie, Roxy is frustrated to learn that if she wants Amy back she'll need ammo against Jack. After a run in with Derek, Roxy goes to Pat to dig up some dirt, Pat telling her that Derek is rotten to the core and it's about time Roxy stepped up! Roxy confronts Jack, confident the courts will never give Jack custody with Derek around, but Derek makes it clear he is not to be messed with.
Jack gives Derek a tour of the Square, Derek acting impressed by Jack's efforts at the gym before playing the doting son when Dot offers to take him to see Jim.
Billy is alarmed when Lola arrives with news the social want to visit, enlisting Abi to pretend to be Lola for the meeting. Abi is extremely convincing, using her family problems to put across a good case but when Lola arrives, Billy's plan falls to pieces.
Last on
Credits
| Role | Contributor |
| --- | --- |
| Roxy Mitchell | Rita Simons |
| Derek Branning | Jamie Foreman |
| Jack Branning | Scott Maslen |
| Carol Jackson | Lindsey Coulson |
| Michael Moon | Steve John Shepherd |
| Rainie Cross | Tanya Franks |
| Billy Mitchell | Perry Fenwick |
| Lola Pearce | Danielle Harold |
| Abi Branning | Lorna Fitzgerald |
| Tanya Jessop | Jo Joyner |
| Max Branning | Jake Wood |
| Lauren Branning | Jacqueline Jossa |
| Cora Cross | Ann Mitchell |
| Dot Branning | June Brown |
| Pat Evans | Pam St Clement |
| Sam | Babatunde Aleshe |
| Dr Faye Morrison | Anna Francolini |
| Jimmie | Samuel James |
| Harpreet | Danny Rahim |
| Executive Producer | Bryan Kirkwood |
| Director | Nic Phillips |
| Writer | Jeff Povey |