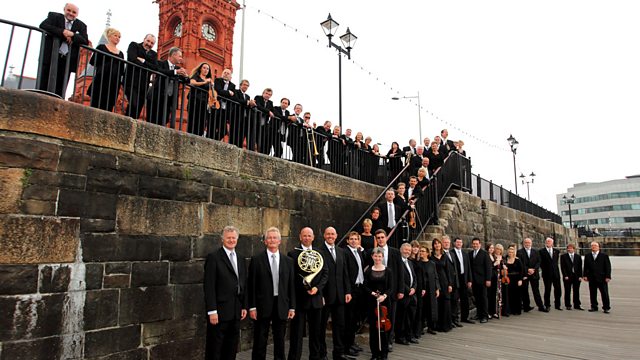 BBC NOW - Berlioz's Childhood of Christ
Live from St. David's Hall in Cardiff
Presented by Nicola Heywood Thomas
Principal Conductor Thierry Fischer directs the BBC National Chorus and Orchestra of Wales in Berlioz's sacred trilogy for Christmas - The Childhood of Christ.
The Christmas story might seem an odd subject for a Romantic composer like Berlioz, more focussed on the passionate expression of opera than retelling ancient Bible stories. It only came into being slowly over four years. The idea began during a game of cards in 1850 when an architect friend asked him to write something for an album. Berlioz began scribbling an Andantino for organ and was immediately struck by the "naïve and rustic devoutness" of the theme. With the addition of a chorus singing goodbye to the infant Jesus, the famous 'Shepherds' Farewell' was born. Over the coming months he added another two movements which combined to become 'The Flight into Egypt', the central movement of his religious drama.
It was another four years before Berlioz completed the outer movements. 'Herod's Dream' sets the scene of the Roman occupation in Palestine. The king is haunted by a nightmare of a child who will be born to overthrow him. As he orders the massacre of the innocents, Berlioz switches his attention to the nativity, and the Angels warning the Holy family to leave for Egypt. The final section, 'The Arrival at Saïs' tells of their journey's end, rejected by the city's inhabitants, until, exhausted they are taken in by a carpenter and invited to stay with his family.
Berlioz brings all his dramatic musical skills to exploit the human emotions of the story, and we follow the action in a very modern, cinematic fashion. At times the score is remarkably simple and sparsely orchestrated, revealing a touching tenderness that never becomes sentimental - Berlioz's naivety is absolutely genuine. The Childhood of Christ was an immediate success with audiences in Paris in 1854 - much to the composer's surprise - and it's remained a Christmas favourite ever since.
The music of Berlioz has been a defining feature of Thierry Fischer's concerts in Cardiff over the last five years, to great critical acclaim. In this, his final season as Principal Conductor with the BBC National Orchestra of Wales, tonight's concert promises to be a crowning achievement.
Berlioz L'Enfance du Christ
Anna Stephany Marie
Barry Banks Le Récitant
Vincent le Texier Joseph
Henry Waddington Hérode / Le Père de famille
Royal Welsh College of Music and Drama Chamber Choir
BBC National Chorus of Wales
BBC National Orchestra of Wales
Thierry Fischer conductor.
Last on