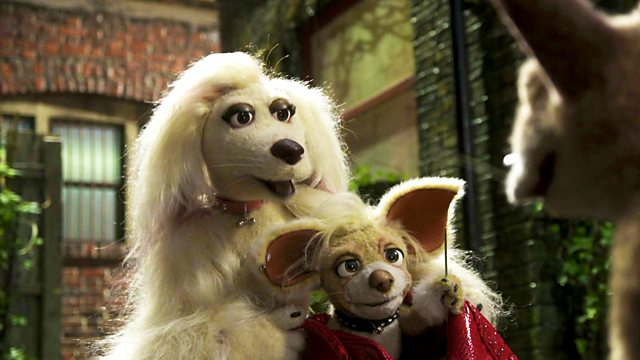 Mongrels, the hilarious, award-winning, adult puppet comedy, returns. Starring Nelson, the metrosexual fox; Destiny, the pretentious pedigree bitch; Marion, the slow-brained street cat; Kali, the rude-girl pigeon; and Vince, the proper ****ing fox.
Starring the voices of Rufus Jones, Lucy Montgomery, Dan Tetsell, Katy Brand, Paul Kaye, and Ruth Bratt. Created by Adam Miller, developed by Jon Brown, Adam Miller and Daniel Peak, written by Jon Brown and Daniel Peak. Puppets created by Talk to the Hand.
Nelson's bid to salvage the showbiz career of a depressed chimpanzee is thwarted when his protege reveals an embarrassing personal habit. Marion takes a spin in the washing machine. Kali seeks revenge when her put-downs are outclassed by Destiny's fabulously bitchy new gay best friend.
Last on
Credits
| Role | Contributor |
| --- | --- |
| Marion (voice) | Dan Tetsell |
| Marion | Warrick Brownlow-Pike |
| Nelson (voice) | Rufus Jones |
| Nelson | Andy Heath |
| Destiny (voice) | Lucy Montgomery |
| Destiny | Richard Coombs |
| Destiny | Sue Beattie |
| Kali (voice) | Katy Brand |
| Kali | Iestyn Evans |
| Additional voices | Ruth Bratt |
| Vince (voice) | Paul Kaye |
| Additional voices | Felix Dexter |
| Herself | Natasha Hamilton |
| Himself | Scott Mills |
| Gary | Tony Way |
| Puppeteer | Wim Booth |
| Puppeteer | Matt Hutchinson |
| Puppeteer | Simon Buckley |
| Executive Producer | Stephen McCrum |
| Director | Adam Miller |
| Writer | Jon Brown |
| Writer | Dan Tetsell |
| Writer | Danny Peak |
| Writer | Henry White |
Buy online
Buy online
Available on: DVD or Video download
From suppliers including: Amazon Instant Video, BBC Store