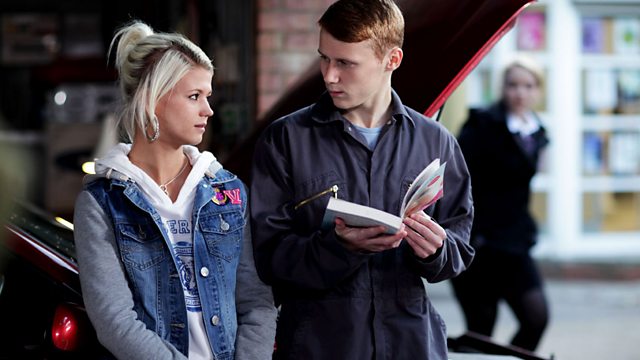 23/11/2011
Tanya wakes to an earful from Abi, still upset that her mum won't buy her new shoes. Abi reveals that Lauren didn't come home last night, making the whole family panic. Cora takes control, ordering Tanya to work and Rainie to search for Lauren. At Booty Tanya is distracted, Carol and Jack's interference adding to her stress. The family fear the worst as a police car arrives but it's not about Lauren, Abi has been arrested for shoplifting. Lauren wakes up in a stranger's bed with no memory of how she got there. Arriving at the hospital Lauren is shocked to learn Tanya has been missing her treatment. Back in Walford, Cora finds Lola's pregnancy test in Abi's bag and assumes its Abi's. Tanya launches into her daughter for being a 'criminal and a tart,' their heated exchange interrupted by Max, back to sort his family out.
Billy is worried about Lola's pregnancy. He asks Pat to speak to Lola; sure any advice would be better coming from a woman. Pat gets the wrong end of the stick and suggests to Lola that an abortion is an option, much to Lola's disgust. Billy catches Jay giving Lola £20 and wrongly insinuates to Abi that there may be something going on between them. Abi is devastated to find Jay and Lola in an innocent but compromising position, telling them to both go to hell.
Dot find's Rose's passport with a surname she doesn't recognise. Carol attempts to play peacemaker between Rose and Dot but Dot explains she doesn't know who her sister is anymore. In the laundrette Rose opens up about a violent ex, admitting that's why she changed her name. Rose admits she needs someone to look after her, Dot agrees to let her sister stay.
Last on
Credits
| Role | Contributor |
| --- | --- |
| Max Branning | Jake Wood |
| Tanya Jessop | Jo Joyner |
| Lauren Branning | Jacqueline Jossa |
| Abi Branning | Lorna Fitzgerald |
| Cora Cross | Ann Mitchell |
| Rainie Cross | Tanya Franks |
| Lola Pearce | Danielle Harold |
| Billy Mitchell | Perry Fenwick |
| Pat Evans | Pam St Clement |
| Jay Mitchell | Jamie Borthwick |
| Dot Branning | June Brown |
| Rose Cotton | Polly Perkins |
| Carol Jackson | Lindsey Coulson |
| Jack Branning | Scott Maslen |
| Mandy Salter | Nicola Stapleton |
| Ben Mitchell | Joshua Pascoe |
| Tiffany Butcher | Maisie Smith |
| Sam | Babatunde Aleshe |
| Executive Producer | Bryan Kirkwood |
| Director | Nic Phillips |
| Writer | Patrick Homes |