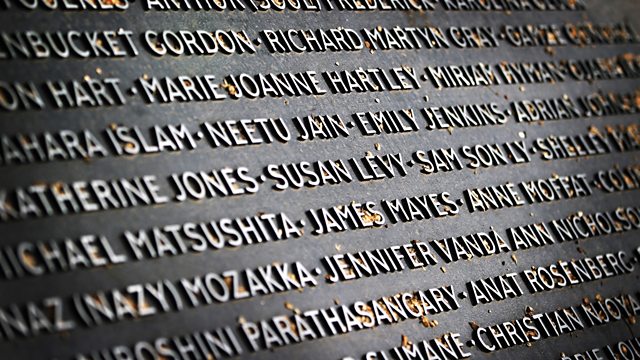 The Unresolved
Poet Stewart Henderson questions whether the agitated, complaining presence of the unresolved - in the form of disappointed hopes, continuous regret, or hideous trauma - can be stilled, even silenced, bringing the individual to a contemplative and functioning resolution.
Stewart talks to Julie Nicholson whose daughter Jenny was killed in the London bombings on 7th July 2005. At Horfield Church in Bristol, where Jenny is buried, they talk about her struggle with this cataclysmic event - the shock, the loss of her priestly vocation and the search for reconciliation.
Julie says: "Jennifer was a vibrant, joyous human being, a 24 year old young woman on the cusp of fully adult life. At the time of her death Jenny lived with her partner in Reading, had recently completed a Masters in music and worked for a music publishing company in London. She had so much to look forward to. Jenny's death and circumstance of her death will always contain elements of the unresolved, how could it not? So much was lost. The unresolved is a reality I live with and within that state attempt to live well. Jenny's passion for learning and her love of music and literature is reflected in a charitable trust established in her name. Jenny is gone but her name and the essence of her continue to make a difference and to inspire others." Julie Nicholson's book about her daughter, "A Song for Jenny" tells the story of her loss and grief.
The programme includes poetry from George Herbert, Rainer Maria Rilke and Carol Ann Duffy and music from Christian Forshaw and Charles Ives.
Perhaps that which seems to bankrupt us at the time, leaving us naked and numb, is not necessarily the final reckoning?
Producer: Jo Coombs
A Loftus Audio production for BBC Radio 4.
Last on