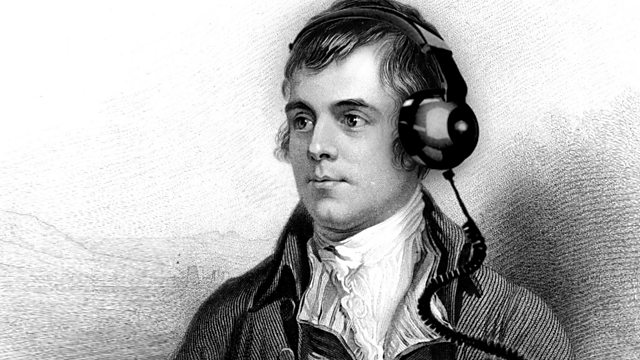 Robert Burns's iPod
David Owen Norris and guests listen to Robert Burns' favourite songs in his drinking club in Tarbolton, near Glasgow. With National Poet of Scotland Liz Lochhead (writer of a play about Burns), Dr Kirsteen McCue and Professor Nigel Leask - and featuring Burns' own fiddle.
We hear the songs with the tunes he wanted - not always the ones which have become famous. For instance, 'My Love is like a Red Red Rose' was changed by his publisher against Burns' wishes. Kirsteen McCue is the world expert on Burns' songs and she reveals the original versions. We also hear a naughty song called 'Nine Inch will Please a Lady'.
Robert Burns' playlist reflects his political vision and also his complex love life. Burns was writing for the high-class Edinburgh ladies who took him up in his 30s, but he was also composing songs in broader Scots about their maids. Songs were a crucial part of his seduction technique - and they seem to have worked for him. He left 15 illegitimate children. Even on his death-bed, Burns was writing songs - for the pretty blonde teenager who was nursing him. That song, 'Oh Wert Thou in the Cold Blast', is one of his most beautiful and almost unbearably moving. Burns was destitute, he was dying at the age of only 37, and yet he sang to his nurse: "Oh wert thou in the cold blast, I'd shelter thee, I'd shelter thee".
Presenter David Owen Norris is a broadcaster, composer and concert pianist. He has arranged the songs, which are performed by Thomas Guthrie and jazz singer Gwyneth Herbert.
Producer: Elizabeth Burke.
A Loftus production for BBC Radio 4.
Last on