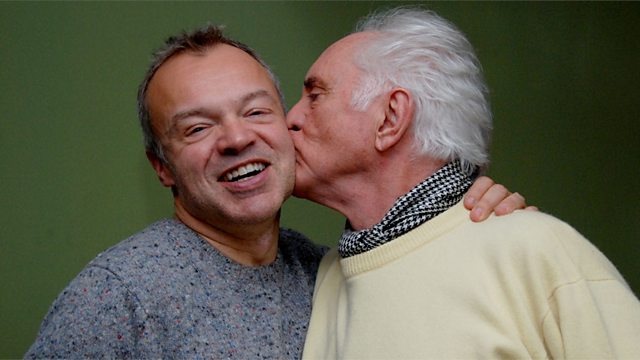 Neil Morrissey & Terence Stamp
Graham's first guest was Neil Morrissey who behaved impeccably and talked about being the voice of Bob The Builder, how he's had two UK number one singles, his own brand of beer, and how he's about to go on a nationwide tour until 2013 starring as Fagin in Oliver!...
After twelve, actor Terence Stamp came in to talk about his new autobiography 'Rare Stamps: Reflections on Living, Breathing and Acting', working with greats such as Marlon Brando in 'Superman', and how he used to work in a golf shop... oh, and he no longer makes wheat free bread.
This week's 'I Can't Believe It's Not Better', was 'Itsy Bitsy Teeny Weeny Yellow Polkadot Bikini' by Bombalurina featuring Timmy Mallett. It was the choice of Claire Malley who lives in Birmingham. In 1990, someone must have liked it because it was number one for three, yes three, weeks!
In 'Grill Graham', Sandra in Oxford wanted some advice on how to look great at her husband's birthday party because she is slightly overweight and didn't want to just wear a black dress as she always does. And poor Jonathan in Manchester was getting concerned that people were mocking him because his beautiful wife is from Thailand, and he assumes everybody must think she is a 'mail order bride' (his words, not ours).
And in 'Tune With A Tale', Rebecca Clarkson - who was recovering from a house party the night before - chose 'Tie A Yellow Ribbon Round The Old Oak Tree' by Dawn featuring Tony Orlando, proving not all 'Tune With A Tales' need to be sad. Phew!
Last on