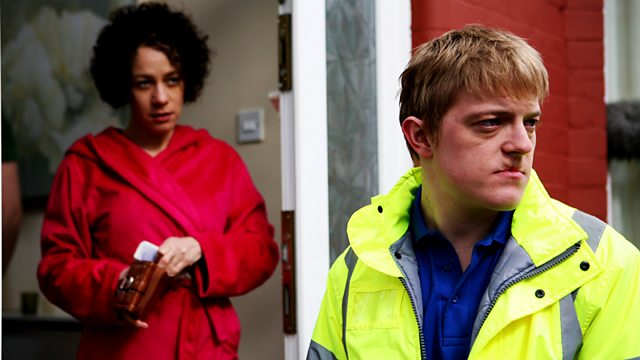 Bugsy Mullen is a milkman with a scar on his lip; he is shy, but he has a good heart. Bugsy has a regular morning ritual with a couple of local kids, Dylan and Josh, who jump on the back of the float for a ride. Bugsy shouts at them because that's expected, but he doesn't actually mind. He even swerves in the street a little to increase the thrill for them. But this time Dylan falls off and bangs his head - there's a brief moment of dizziness, and then Dylan gets up and runs off laughing.
Bugsy worries about Dylan and takes him a big bar of chocolate. Dylan's estranged dad Clive gives him a thump for his troubles, but single mum Ally tends to his injuries. Ally's touched by Bugsy's concern for her son - she knows the accident was Dylan's fault. According to her posh new neighbours Dylan's got ADHD, but they are middle class snobs; he's just a boy, full of beans.
There's a definite spark between Bugsy and Ally, but Ally is just about to take her ex Clive back into her home; her area is being gentrified, she can't afford the rent by herself, and she thinks she's doing the right thing by the boys. Ally's mum Rita thinks she'd be better off suing the dairy for compensation, then she wouldn't need to take Clive back, but Ally doesn't want to do it. Bugsy was so innocent and nice and vulnerable. He came to see them out of kindness. And he got battered for his trouble. But on the other hand...
Bugsy's boss tears strips off him and moves him to another milk round - Ally thinks that Bugsy's been sacked and goes to see him. Bugsy's touched by her concern and tells Ally that he won't say anything to jeopardise her compensation, even if it costs him his job. Ally decides she owes it to Bugsy to tell him a few home truths...
Last on
More episodes
Previous
You are at the first episode
Credits
| Role | Contributor |
| --- | --- |
| Bugsy | Shaun Mason |
| Ally | Alicya Eyo |
| Clive | Rob James-Collier |
| Moxley | Drew Schofield |
| Rita | Susan Eyo |
| Steph | Karen Eyo |
| Dylan | Oliver Kane-Rice |
| Josh | Joshua Kane-Rice |
| Advice Worker | Suzanne Collins |
| Solicitor | Mike Neary |
| Old Lady | Georgina Smith |
| Executive Producer | Jimmy McGovern |
| Producer | Colin McKeown |
| Executive Producer | Colin McKeown |
| Director | John Fay |
| Writer | John Fay |