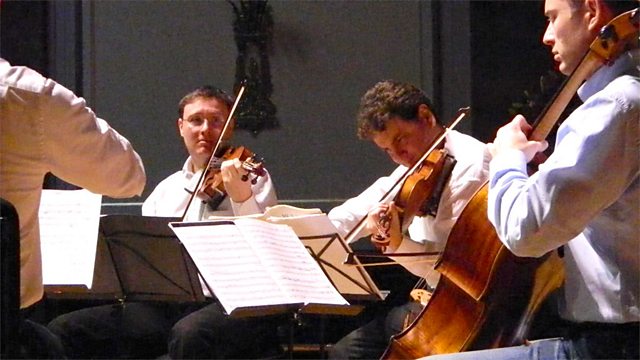 The Jerusalem Quartet
From London's Wigmore Hall, former Radio 3 New Generation Artists the Jerusalem Quartet play one of Mozart's so-called 'Haydn' quartets (dedicated to the older composer who had been such an inspiration to him) and Debussy's only string quartet, now one of the clasics of the chamber-music repertoire.
Mozart's 6 'Haydn' quartets are both an affectionate tribute to the composer's teacher and a showcase of all that he had learned from his mentor - 'the fruit of long and arduous work' as Mozart himself explained. Debussy's Quartet (which he called Op.10, despite otherwise never using opus numbers!) was written towards the end of the 19th-century and was initially regarded as phenomenally difficult to play. Both performers and audiences have subsequently taken it to their hearts and it is now one of the most famous of all string quartets.
Presented by Sarah Walker.
Mozart: String Quartet in D minor K421.
Debussy: String Quartet in G minor Op 10.
Jerusalem Quartet.
Last on