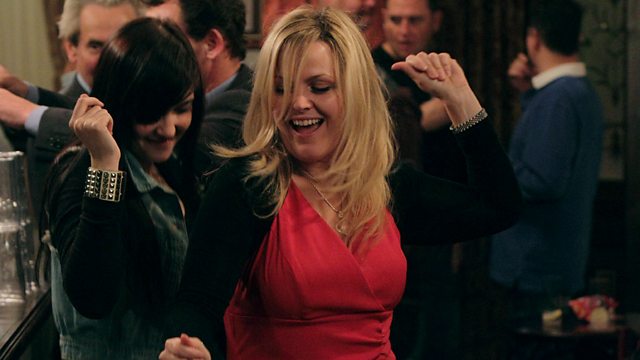 17/11/2011
Kat insists her cheating was a one off. A shocked Alfie demands details, and Kat snaps and tells him it happened in the alley by R&R. Alfie walks out and Kat follows, leaving Anthony in charge of the Vic. Looking at the alley, Alfie hears Kat calling, but doesn't respond. Kat tells Kim she's ruined everything. Later, back home, Alfie wants to know why Kat cheated. Emotional, she says he knows what she is, she'll keep hurting him. She tells him to throw her out but he can't, he loves her too much. Kat's left reeling when he suggests she just doesn't tell him if she cheats again.
Pat tells Janine that Frank paid Phil to torch the Car Lot, and a young man who'd been sleeping rough died in the fire. Janine questions why she wasn't told at the time. Pat reveals Frank left after she and Phil persuaded him not to confess about the fire. They rake over the past, Janine blaming Pat for everything. Pat reminds Janine she's the one that looked after her, while Frank looked after himself. Meanwhile, Phil tells Rainie the full story of the fire, and the photos he's been sent. He admits Shirley doesn't know about the fire. Rainie insists it'll be their secret; he can talk to her about anything. They kiss, but are interrupted by Pat, who assures Phil Janine isn't behind the photos.
Michael finds Janine, angry that she stood him up. Janine's thrown Frank's picture in the bin, it's where he belongs. Janine's decided she's unlovable but Michael tells her it's not true, he loves her.
Anthony's persuaded by Shirley to have a lock in at the Vic. Carol's concerned that Lauren's drinking and that Tanya seems uncharacteristically drunk and out of control.
Last on
Credits
| Role | Contributor |
| --- | --- |
| Executive Producer | Bryan Kirkwood |
| Director | John Greening |
| Writer | Richard Lazarus |
| Kat Moon | Jessie Wallace |
| Alfie Moon | Shane Richie |
| Anthony Moon | Matt Lapinskas |
| Tyler Moon | Tony Discipline |
| Michael Moon | Steve John Shepherd |
| Janine Butcher | Charlie Brooks |
| Pat Evans | Pam St Clement |
| Carol Jackson | Lindsey Coulson |
| Tanya Jessop | Jo Joyner |
| Lauren Branning | Jacqueline Jossa |
| Rainie Cross | Tanya Franks |
| Phil Mitchell | Steve McFadden |
| Billy Mitchell | Perry Fenwick |
| Shirley Carter | Linda Henry |
| Kim Fox | Tameka Empson |
| Patrick Trueman | Rudolph Walker |
| Rose Cotton | Polly Perkins |
| Reverend Stevens | Michael Keating |
| PC Grant | Drew Edwards |