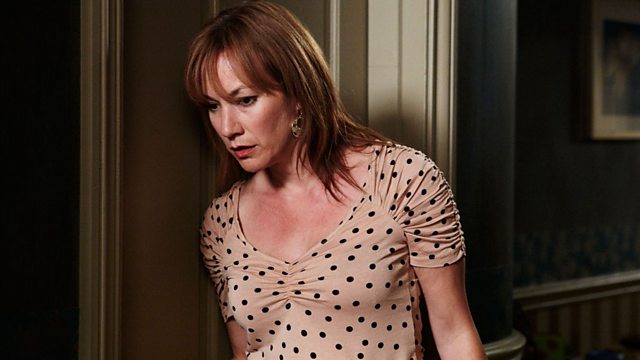 15/11/2011
An old newspaper cutting 'Man killed in Car Lot blaze' is left on Phil's doorstep. Phil's sure Janine's behind it, and his suspicions are fuelled further when he finds the Walford Gazette's number in Butcher's Joints. He confronts Janine, who reveals she talked to paper about the swan roast. Shirley buys Patrick a drink and toasts forgiveness. At R&R, Rainie finds Phil staring at a bottle of whiskey.
Anthony and Tyler compete to sell Alfie's dodgy Dutch Christmas goods. With Lola's help, Tyler wins. Their scam's nearly uncovered by Mr Lister when he sees Fatboy with a Dutch Santa. Luckily, Fatboy's reprogrammed the Santa to play a Christmas message in his own voice. Tiffany and Shenice have a sleepover; they both love the Fatboy Santa. Alfie insists Kat go out with Kim, but Kat doesn't stay out long. She admits to Alfie she cheated on him. Tanya's thrilled when Jane visits. Jane asks if Tanya's alright, Tanya claims she's had flu. They arrange a night out, but when Masood texts to say the house is empty, Tanya insists Jane go to him. Lauren and Tanya go to the Vic together and make a deal, Tanya will buy Lauren drinks if Lauren doesn't mention her treatment.
Rose and Dot attend a mayoral banquet with Reverend Stevens. Later, in the Vic, Rose announces that the Olympic flame will be coming to Walford. Fatboy and Billy are both confident they'll be the one carrying it.
Billy's annoyed with Lola for using his money to buy boots. She uses the money she makes helping Tyler and Anthony to buy Billy a tracksuit.
Michael invites Janine for a drink. Surprised, Janine asks if he means a proper date. However, instead of meeting him, Janine visits Pat and demands to know the truth about the Car Lot fire.
Last on
Credits
| Role | Contributor |
| --- | --- |
| Executive Producer | Bryan Kirkwood |
| Director | John Greening |
| Writer | Richard Lazarus |
| Kat Moon | Jessie Wallace |
| Alfie Moon | Shane Richie |
| Michael Moon | Steve John Shepherd |
| Anthony Moon | Matt Lapinskas |
| Tyler Moon | Tony Discipline |
| Shenice Quinn | Lily Harvey |
| Phil Mitchell | Steve McFadden |
| Shirley Carter | Linda Henry |
| Billy Mitchell | Perry Fenwick |
| Lola Pearce | Danielle Harold |
| Jane Beale | Laurie Brett |
| Tanya Jessop | Jo Joyner |
| Lauren Branning | Jacqueline Jossa |
| Rainie Cross | Tanya Franks |
| Pat Evans | Pam St Clement |
| Janine Butcher | Charlie Brooks |
| Tiffany Butcher | Maisie Smith |
| Dot Branning | June Brown |
| Rose Cotton | Polly Perkins |
| Arthur 'Fat Boy' Chubb | Ricky Norwood |
| Kim Fox | Tameka Empson |
| Patrick Trueman | Rudolph Walker |
| Mr Lister | Nick Wilton |
| Reverend Stevens | Michael Keating |