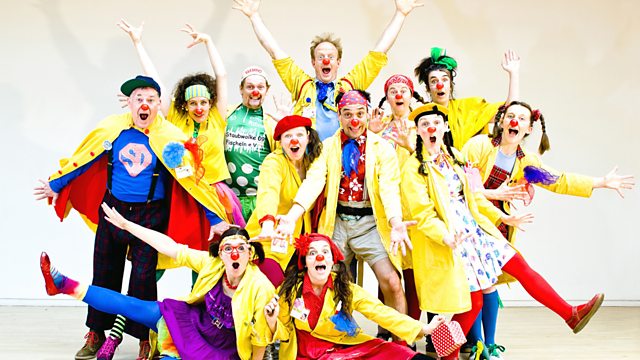 Children in Need Special
To mark this year's Children In Need Janice Forsyth takes a look at children and comedy on today's Comedy Café.
Throughout today's show Janice will be joined by special guest, "comedy-fizz bomb" Billy Kirkwood who performs comedy for kids and also regularly hosts the Stand's Kids Club events. Billy shares the challenges of performing live comedy for children. And what did you do when you were 13? Ashley Storrie was already working on her future career as a comedian - she drops in to share her experience and advice for those starting out young in stand-up.
Sian Bevan's written and performed a lot of comedy for children and teenagers but there's one aspect of kids comedy she's not familiar with and that's the serious business of Clown Doctors. So she joined some as they did their rounds at a local hospice to see how a little light relief could really benefit sick children.
From health services to prison services comedy workshops have been used to improve everything from confidence to creativity to wellbeing. So why shouldn't they also be held in our schools? Billy has taken comedy into the classroom and would like to see more of it in Scotland. He's joined by founder and director of London's Comedy School, Keith Palmer, who have used comedy in schools to improve learning, rehabilitation and anti-social behaviour.
And we'll hear from two kids who suffer differing symptoms of Tourettes.
Last on