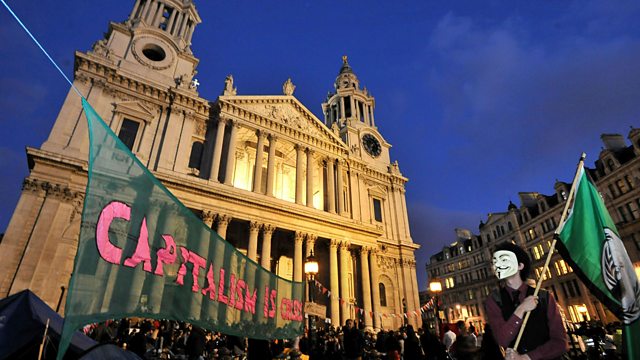 Occupy London
Listen in pop-out player
In the first of a new series of The Report, Simon Cox investigates the events of late October when an Occupy London protest led to the closure of St Paul's Cathedral.
Much of the coverage has been dominated by the row over the decision by St Pauls to close the cathedral and the protester's relationship with the Church. But The Report reveals a third key player in the story: The City of London Corporation.
The BBC has learned how the City of London Corporation struck a deal with the Labour Government in return for a 250 million pound contribution to the Crossrail project. An internal document sent to councilors in 2007 and seen by the BBC says one of the pre-conditions of a major contribution to Crossrail would have to be "delivery of a net real terms improvement in Government funding of the City Corporation". The Government then agreed to re-instate a fund known as the "City Offset"" from April 2010 of around 10 million pounds a year. This had previously been scrapped by Labour in 2003.
The Corporation, which is the local authority for the city, has substantial private funds that are exempt from Freedom of Information (FOI) requests. The occupy protesters are demanding that the Corporation opens up its private funds to public scrutiny and reveals the extent of the Corporation's lobbying since 2008.
Producer: Daniel Tetlow
Reporter: Simon Cox.
Last on