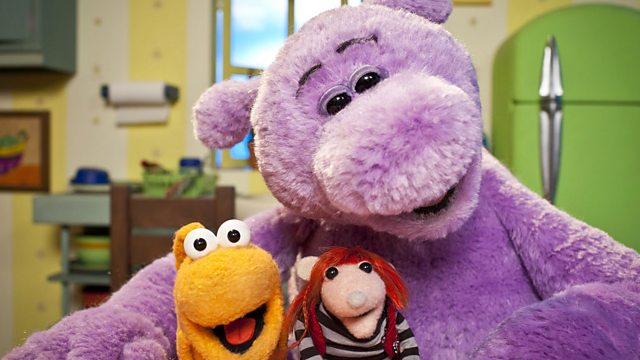 Big invites Small and Ruby to a piano concert he is giving. Small doesn't know what a concert is, so Ruby tells him it's when you sit and listen to music. Small asks if there will be ice cream, cake and dancing monkeys. When Big says no, Small says he isn't interested. Ruby tells Small not to be rude and, a while later, Small and Ruby are dressed up watching Big play the piano. The frogs are also in the audience.
Small is bored by the music, however, and to amuse himself he throws a raisin at a frog. The frog catches the fruit in his mouth. Small laughs and throws a whole bunch of raisins, which causes the excited frog to jump down onto the piano keys in search of the snacks. This interrupts the music. Big is forced to stop playing and the concert is suddenly over.
Small feels guilty for ruining the concert and offers Big his favourite possessions as a way of saying sorry. When Big accepts the apology, Small asks if he can take his possessions back. Big says yes and Small scurries away carrying his stuff. Ruby, however, is not impressed. She doesn't think Small's apology was a real apology at all. When you say a proper sorry to someone it should come from the heart.
Last on
Credits
| Role | Contributor |
| --- | --- |
| Big and Small's Voice | Lenny Henry |
| Ruby's Voice | Tamsin Heatley |
| Big | Todd Doldersum |
| Small | Jason Hopley |
| Ruby | Lesa Gillespie |
| Puppeteer | Paul Currie |
| Puppeteer | Mike Smith |
| Puppeteer | Anna McCaughtry |
| Producer | David Collier |