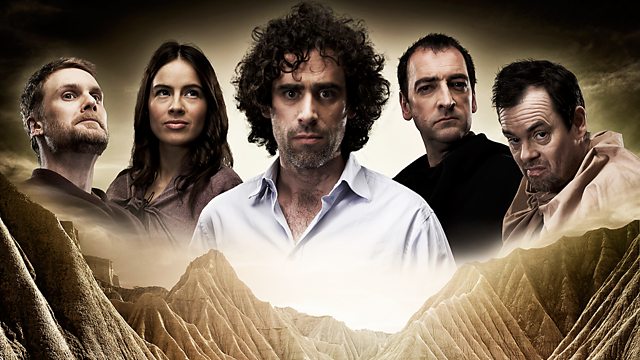 The Questers continue their search for the Sword of Asnagar and are happy to be welcomed into the palace of the White Wizard, a man who is nothing but sweetness and light and, consequently, the very opposite to Lord Darkness. But extremism of any kind, whether for good or evil, is a dangerous thing - and Penthiselea (Sophie Winkleman) soon begins to smell that there's something not altogether unfishy about the White Wizard.
Meanwhile, Kreech and Lord Darkness are off to the Land of Dunes for their annual holiday...
Starring:
Darren Boyd as Vidar
Kevin Eldon as Dean/Kreech
Dave Lamb as Amis, aka the "Chosen One"
Alistair McGowan as Lord Darkness
Stephen Mangan as Sam
John Sessions as the White Wizard
and
Sophie Winkleman as Penthiselea
Written by Anil Gupta and Richard Pinto
Producer: Sam Michell.
Last on