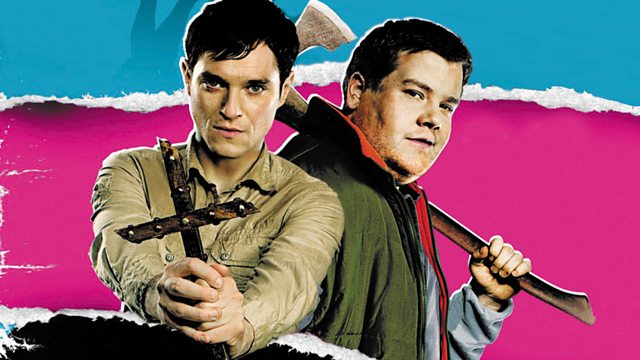 Lesbian Vampire Killers
Gory Hammer Horror spoof. No-hopers Fletch and Jimmy stumble across a village while out hiking in the English countryside. What they don't find out until too late is that all the women in the village turn into lesbian vampires on their 18th birthday. Lured to an old cottage by the villagers, they have to become 'lesbian vampire killers' if they are to survive the night.
How long is Lesbian Vampire Killers available on BBC iPlayer?
This programme is only on BBC iPlayer for 7 days after broadcast. We always aim to offer our programmes to stream for 30 days; however for a number of reasons including technical problems, legal or contractual issues this isn't always possible.
Credits
| Role | Contributor |
| --- | --- |
| Fletch | James Corden |
| Jimmy | Matthew Horne |
| Vicar | Paul McGann |
| Director | Phil Claydon |
| Lotte | MyAnna Buring |
| Eva | Vera Filatova |
| Carmilla | Silvia Colloca |
| Judy | Lucy Gaskell |
| Anke | Louise Dylan |
| Trudi | Ashley Mulheron |
| Heidi | Tiffany Mulheron |
| Writer | Stewart Williams |
| Writer | Paul Hupfield |