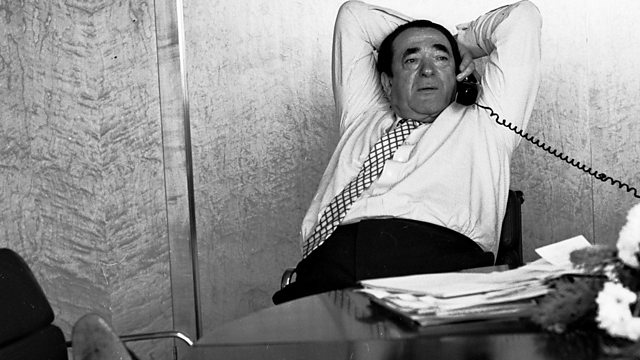 The Rise and Fall of Robert Maxwell
As a companion piece to his archive hour on Rupert Murdoch, Steve Hewlett presents this programme on Murdoch's late archrival: Robert Maxwell. Unlike Murdoch's, Maxwell's life is a classic 'rags-to-riches' story.
However, Maxwell's character appears less like that of a happily-ever-after Cinderella tale and more like that of Genghis Khan, born in poverty to become an infamous, charismatic head of a vast empire only to die in uncertain circumstances.
Steve speaks to former Union leader Brenda Dean, Roy Greenslade who edited the Daily Mirror, Maxwell's former 'chief of staff' Peter Jay, Maxwell's 'other woman' Wendy Leigh, the Mirror's former political editor Alastair Campbell and Pandora Maxwell, who married into the family and intimately witnessed Robert's relationship with his son Kevin.
Robert Maxwell was born Jan Ludvik Hoch in Czechoslovakia to a poor Orthodox Jewish family, claiming that he didn't own a pair of shoes until the age of seven and only received three years of education. He somehow fled from the Carpathian Mountains to Britain at the age of seventeen while the rest of his remaining family were killed in Auschwitz. Maxwell changed his name and entered the British Army, rising to the ranks of a decorated captain.
With Maxwell Communications Corporation, he sat atop a vast trans-continental publishing empire. That is, until his body was found in the Mediterranean Sea.
Producer: Colin McNulty
A Whistledown Production for BBC Radio 4.
Last on