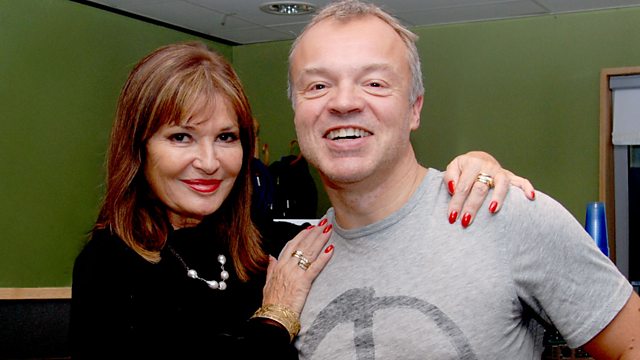 Will Young & Stephanie Beacham - Smelly cashmere coat & Sexy Boots
Graham's first guest today was former Pop Idol, Will Young, who turned up still feeling spooked after thinking someone had broken into his house last night after hearing a bang. Graham quite rightly pointed out it was most probably a firework! Will discussed his 'Frank Spencer' look, how he would really like to study zoology and become the new Sir David Attenborough, and how after seeing the BBC's 'The Frozen Planet', would love to own a penguin. Graham said he couldn't.
And then Stephanie Beacham arrived looking gorgeous, and told Graham about her successful career which included working with names such as Ava Gardner, Charlton Heston and Joan Collins. Stephanie also revealed why she wore fluffy slippers on Dynasty, and how she prepared to enter the Big Brother house.
Today's 'I Can't Believe It's Not Better' was chosen by Michelle Sharp who wanted to embarrass her son Louis. It was 'Disco Duck', by Rick Dees and His Cast of Idiots. Will Louis ever talk to his mum again?
In 'Grill Graham', Verity, who'd given a painting to a friend as a present, was miffed that her friend had yet to display it. Should she mention it to her friend or not? And Graham from Ealing had discovered that his mum has been reading his diary. Should he confront her or not?
And Trudi Hale from Hayes chose David Bowie's 'She's Got Medals' in 'Tune With A Tale', a song which is very un-Bowie-esque. Trudi also told Graham all about her naughty dog, and her sister who is a real life Shirley Valentine after moving to Crete some 20 years ago and marrying a waiter.
Last on