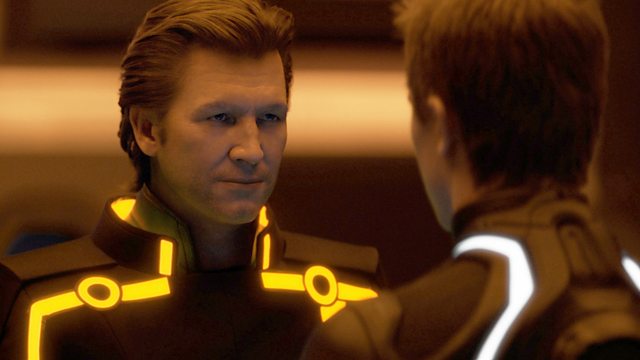 Tron: Legacy
Following the disappearance of his father many years ago, Sam Flynn has now grown to be a young man and the head of a digital technology corporation. When tipped off that his father may still be alive, Sam goes looking for him inside the digital world that he had once created. Here, Sam meets his father's evil alter ego, who has plans to get out of 'the grid' and take over the real world... Will Sam be able to stop him and get out before it's too late? And will he have to do it all on his own?
More on Tron: Legacy from BBC News
Video: Mark Kermode reviews Tron: Legacy
Mark Kermode joins Simon Mayo to review Tron: Legacy, on BBC Radio 5 live's Kermode and Mayo's Film Review in 2010.
Credits
| Role | Contributor |
| --- | --- |
| Kevin Flynn/Clu | Jeff Bridges |
| Sam Flynn | Garrett Hedlund |
| Quorra | Olivia Wilde |
| Castor/Zuse | Michael Sheen |
| Gem | Beau Garrett |
| Jarvis | James Frain |
| Alan Bradley/Tron | Bruce Boxleitner |
| Masked DJs | Daft Punk |
| Bartik | Conrad Coates |
| Rinzler | Anis Cheurfa |
| Director | Joseph Kosinski |
| Writer | Adam Horowitz |
| Writer | Edward Kitsis |