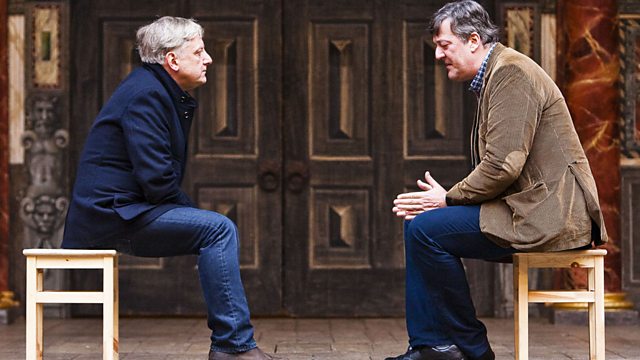 In this programme, Stephen Fry celebrates storytelling. It has been with us as long as language itself and as a species, we love to tell our stories. This desire to both entertain and explain has resulted in the flowering of language to describe every aspect of the human condition.
Stephen asks just what makes a good story and why some writers just do it better. He reveals what stories make him shiver with joy or, conversely, shudder with horror. From Homer's epic to Joyce's modern-day reinvention with Ulysses, from taking in Shakespeare, PG Wodehouse, Tolkien, Orwell, Auden, Bob Dylan and the even the mangled web of words that became known as Birtspeak, Stephen uncovers why certain words can make us laugh, cry or tear our hair out.
Talking to storytelling gurus like screenwriter William Goldman and modern-day interpreters of classics like Lord of the Rings director Peter Jackson, he looks at how character and plot are interwoven and how any schema to create the perfect story are doomed. Shakespearean actors Simon Russell Beale, David Tennant, Brian Blessed and Mark Rylance give their take on Hamlet and laud the bard as the blue planet's supreme writer. Sir Christopher Ricks argues that Bob Dylan should be considered as great a poet as anyone, whilst Richard Curtis explains why Auden can move us to tears but why in the modern world, Coldplay are just as important.
Last on
More episodes
Next
You are at the last episode
Credits
| Role | Contributor |
| --- | --- |
| Writer | Stephen Fry |
| Presenter | Stephen Fry |
| Director of photography | Simon Ffrench |
| Sound Recordist | Adam Toy |
| Sound Recordist | Tim Hodge |
| Sound Recordist | Sean O'Neil |
| Composer | Debbie Wiseman |
| Composer | Andy Hopkins |
| Production Manager | Lucy Tate |
| Executive Producer | Cassian Harrison |
| Executive Producer | Gina Carter |
| Director | Helen Williamson |
| Producer | Helen Williamson |
| Series Producer | John-Paul Davidson |
Buy online
Buy online
Available on: DVD or Video download
From suppliers including: Amazon Video, iTunes