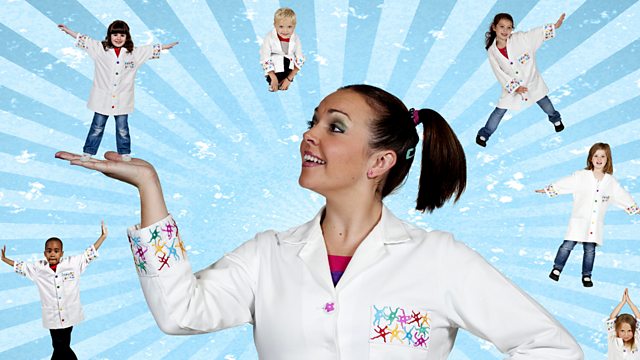 Scientist Nina and her young experimenters investigate the human body and find out why it is brilliant.
Nina investigates how fingertips feel things, with the help of Felix, her touch neuron. Experimenters Emilija, Mya and Toni visit Nina in her lab. They discover that they can use their fingertips to work out if objects are wet or dry and hot or cold. Nina explains that sense of touch helps people to stay safe. If the fingertips feel that something is too hot or prickly, a message is sent to the brain to pull the hand away.
Next they go and have fun on a special floor which lights up and makes noises when it is touched. They discover that the floor contains something called sensors. These are a bit like the nerves in skin which sense things and send messages to the brain. Different nerves sense different things like hot and cold or wet and dry.
Back at the lab, they put on blindfolds and feel objects with their elbows and feet. They have trouble working out what the things are. Nina explains that fingertips are much better at feeling things than elbows or feet. This is because the skin on the fingertips is jam-packed with more different types of nerves than any other part of the body.
Last on
Credits
| Role | Contributor |
| --- | --- |
| Nina | Katrina Bryan |
| Belle | Kelly Harrison |
| Felix | Lewis Macleod |
| Luke | Patrice Naiambana |
| Ollie | Siobhan Redmond |
| Bud | Sharon Small |
| Director | Michael Prince |
| Series Producer | Ciaran Cruickshank |
| Writer | David Bishop |