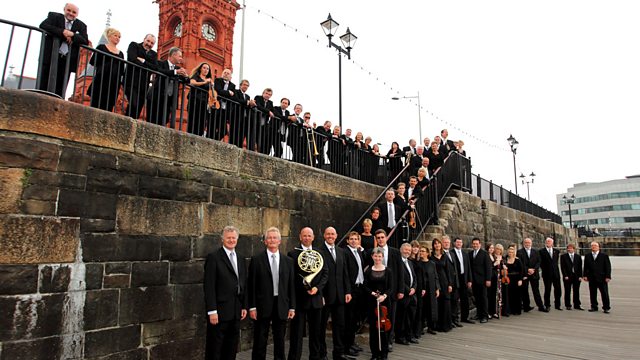 BBC NOW - Britten, Strauss
Recorded on Friday 21st October at St. David's Hall in Cardiff.
François-Xavier Roth, the charismatic Associate Guest Conductor, leads the BBC National Orchestra of Wales in two works from each end of Strauss's career, and Britten's powerful Sinfonia da Requiem.
Strauss wrote his Oboe Concerto in 1945, inspired by his conversations with an American soldier John de Lancie, whom he'd met in Germany at the end of the Second World War. De Lancie's day job was principal oboe of the Pittsburgh Symphony Orchestra, and he persuaded the ageing composer to write a work exploiting the natural melodic potential of his instrument. Scored for chamber-like forces, the concerto is full of wistful autumnal colours and poses a lyrical grace that recalls Mozart and Schubert. Tonight's soloist, François Leleux, is no stranger to the work, having recently recorded it.
Five years earlier, the young Benjamin Britten was commissioned by the Japanese government to write a symphony to mark the 2600th anniversary of the Mikado dynasty. The result, his Sinfonia da Requiem was rejected for its perceived Christian overtones (a criticism that arose simply from Britten's quoting of the Dies irae, a plainsong melody from the mass for the dead). It's a work that abounds in energy and clashing tensions, and demonstrates an extraordinarily confident handling of symphonic structure. At the time of its premiere in 1941, Britten considered it his best work to date
To end, one of Strauss's most brilliantly characterised tone-poems. He casts a solo cello as Don Quixote, aided and abetted by his servant Sancho Panza in the form of a solo viola. Tonight those roles are taken by Tim Hugh and Lawrence Power.
Britten: Sinfonia da Requiem
Richard Strauss: Oboe Concerto
Richard Strauss: Don Quixote
François Lelux (oboe)
Tim Hugh ( cello)
Lawrence Power (viola)
François-Xavier Roth (conductor).
Last on