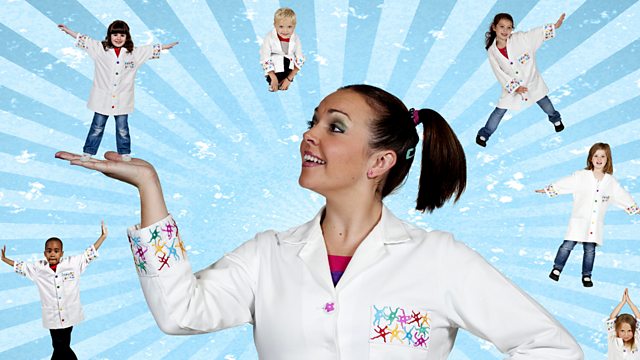 Scientist Nina and her young experimenters investigate the human body and find out why it is brilliant.
Nina investigates how people breathe, with the help of sense neurons Bud and Ollie. Experimenters Freya, Laura and Wannie visit Nina in her lab and discover that people have two stretchy lungs inside their chests that fill up with air when they breathe in. Using a model of the chest, they find out how a stretchy muscle called the diaphragm pulls the air down into the lungs and then pushes it back out again.
Next they discover that air travels though little tubes inside the lungs. If someone has asthma, the little air tubes can get narrower some of the time and this can make it harder to breathe. But a special medicine from the doctor can be used to make the air tubes wider again.
In their final experiment, they pretend a glass lift is the windpipe and discover that little air sacs inside the lungs take oxygen from the air that is breathed in and give it to the body. The oxygen is used for lots of important jobs.
Last on
Credits
| Role | Contributor |
| --- | --- |
| Nina | Katrina Bryan |
| Belle | Kelly Harrison |
| Felix | Lewis Macleod |
| Luke | Patrice Naiambana |
| Ollie | Siobhan Redmond |
| Bud | Sharon Small |
| Director | Michael Prince |
| Series Producer | Ciaran Cruickshank |
| Writer | Austin Low |