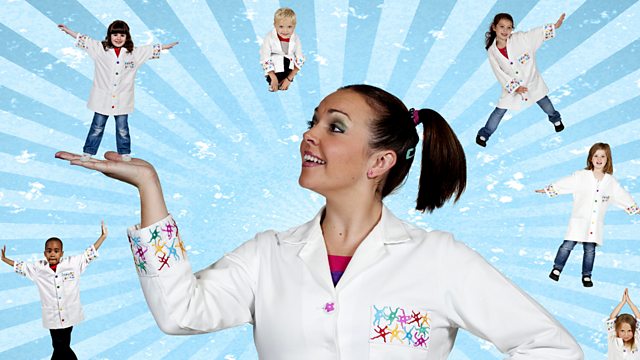 Nina investigates what scabs are for, with the help of Luke, her sight neuron.
Experimenters Megan, Oscar and Ross visit Nina in her lab and do an experiment with leaky buckets. They discover that scabs form over cuts in skin to stop the blood from leaking out. Next, they go and play football on a grass pitch. Nina's heel damages the grass when she tries to save a goal. They discover that a special kind of material can be used to cover the damaged grass, protecting it while it grows back. Scabs help to protect damaged skin too, a bit like the body's own natural plaster.
Back at the lab, they discover that scabs also do the important job of keeping nasty germs out of a cut. Germs can cause an infection and make people feel ill. Nina explains that this is one of the reasons why people shouldn't pick scabs, because then they could become infected.
Last on
Credits
| Role | Contributor |
| --- | --- |
| Nina | Katrina Bryan |
| Belle | Kelly Harrison |
| Felix | Lewis Macleod |
| Luke | Patrice Naiambana |
| Ollie | Siobhan Redmond |
| Bud | Sharon Small |
| Director | Michael Prince |
| Series Producer | Ciaran Cruickshank |
| Writer | Jayne Henry |