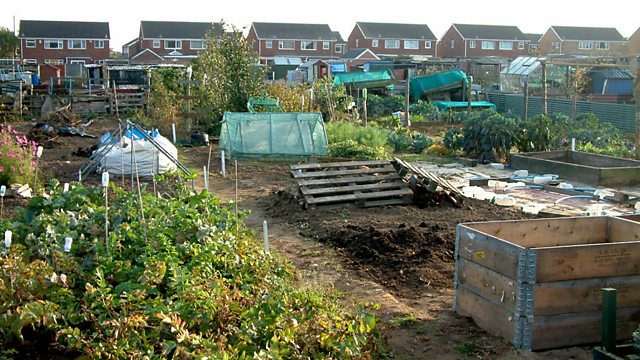 Wheatfields, Scunthorpe
Listen in pop-out player
Eric Robson chairs this Grow Your Own themed programme, hosted by the Wheatfields Allotment Group.
White beetroot and purple Pak Choi : this week the panel answer questions on 'edibles'.
Bob and Bunny can't seem to agree on fig cultivation methods. And Bob explains why he collects Venetian blinds.
Questions addressed in the programme:
How can I eradicate this weed [Shaggy Soldier] from the allotment?
Should I prune my old, gnarled but productive apple tree & pear tree?
I have French tarragon grafted on Russian tarragon? Is it possible that it is reverting back to Russian?
I am growing Gardeners' Delight tomatoes indoors and outdoors without much success. Advice?
How can I best store my summer crop? How can I extend the growing season?
Suggestions included: Growing leaf crop under fleece, growing chard and chervil.
Do allotments provide nesting ground for pests and diseases?
Will autumn-fruiting raspberries fruit twice if they are not cut back?
How and when is the best time to prune a productive fig tree (turkey)?
What can I feed my blueberry plant?
Why does my Goji berry plant flower but not fruit?
Producer: Howard Shannon
A Somethin' Else production for BBC Radio 4.
Last on