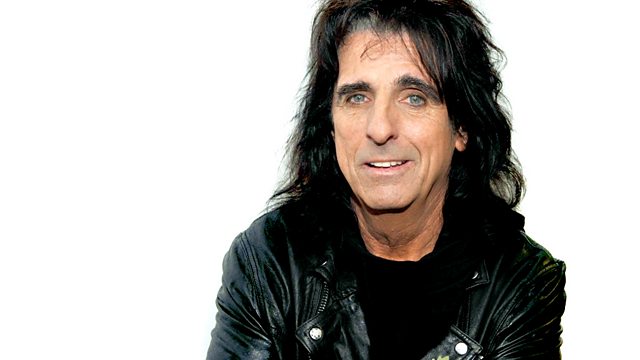 The image of Alice Cooper as a cartoonish Halloween schlock rocker is one that the 63 year old Vincent Damon Furnier has worked had to establish, but his real musical and cultural impact is often ignored.
His band emerged from the Detroit garage rock scene of the mid 60s alongside The MC5 and Iggy & The Stooges and can lay claim to helping inspire punk as much as either of those revered acts (it's no coincidence his track Eighteen was sung by Jonny Rotten at his audition for Sex Pistols). But he was also the first musician to approach rock concerts as theatre - introducing theatrical imagery and stagecraft way before Bowie picked up the pan stick.
Here Matt Everitt speaks to Alice about his early years, how he developed his showmanship, and the massive international success that followed albums like Welcome To My Nightmare and School's Out - albums that turned him into a household name. With typical grace and humour Alice also discusses his battles with alcoholism, his creative rebirth with his legendary cameo in Wayne's World, and his life as a born again Christian - an interesting contradiction considering the battles he's endured with "moral" crusaders the world over and the depraved characters that he portrays.
And, of course, we talk about his overiding addiction...golf (he plays six days a week off a handicap of two).
Last on