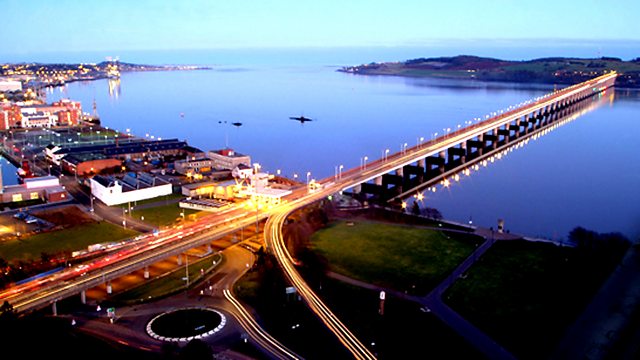 6/7
In programme six of the Scottish Intellect Billy Kay examines the phenomenal impact that two very different university subject areas have had on the life of Dundee - Life Sciences at the University of Dundee and Computer Games/Digital Media at the University of Abertay. Both are world leaders in their fields and enjoy global reputations.
At Dundee, Billy talks to Sir Phillip Cohen, the world's most cited Biochemist and hears how back in the 1940's the first Biochemist came to Dundee as part of the Physiology Department. The Australian Robert Cook though had ambitions for his subject and used to enfuriate his superiors by writing on headed notepaper with the name Department of Biochemistry on it, even when no such department existed! At that time University College, Dundee was part of the University of St Andrews and only became independent as the University of Dundee in 1967. It was in the 1970's though when a new Principal Adam Neville arrived that Biochemistry expanded. He recognised the brilliant research that was going on there and funded the expansion of the department at the expense of other disciplines. Sir Phillip tells the story that a major boost to fund rasing came when Sean Connery made a donation of part of his fee from the film Robin Hood Prince of Thieves! It was'nt enough for the new building required but Connery's glamour helped bring in other funding sources and Sir Phillip used the story unashamedly to attract the best PHD students.
Billy also talks to Professor Mike Ferguson who leads a team which works on tropical diseases like Malaria, Leishmaniasis, Chaga's Disease and human African Sleeping Sickness which attack hundreds of thousands of people in the very poorest parts of the world. We contrast the balancing act required by humanitarian science like this which has no commercial value and the multi million pound pharmaceutical companies which have emerged from research initiated in Dundee...companies like Millipore and Axis Shield.
At the University of Abertay, Billy talks to students Mark Hastings, Alex Zeitler Robert Ballantyne, and Charlie Czerkawski who are doing their postgrad Proffessional Masters in Games Development or Mprof degree. They have been designing a game for Smartphones based on the Rubik cube, where if the hero reaches his goal, he gets to have breakfast with God! Abertay Professors Henry Fortuna and Gregor Whyte describe how their course builds on traditions of design at Duncan of Jordanstone College of Art, commercial graphics which have flourished for a century in the comics of DC Thomson, and technical innovation which abounded at the Technical Institute founded in 1888, the forerunner of Abertay Itself. They and the digital media entrepreneur Chris van der Kuyl describe how global game hits like Grand Theft Auto and Lemmings emerged out of the local scene led by people like David Jones and Russell Kay. One of the main reasons however that so many young Dundonians got into computer programming was the ready availability of Spectrum ZX computers whose manufacture Sir Clive Sinclair had outsourced to the Timex factory in Dundee. It may be an apocryphal story but Chris insists the story back then was that you could get one "for a fiver and 20 Embassy Regal at the back door of he factory!"
An Odyssey Production for Radio Scotland.
Last on