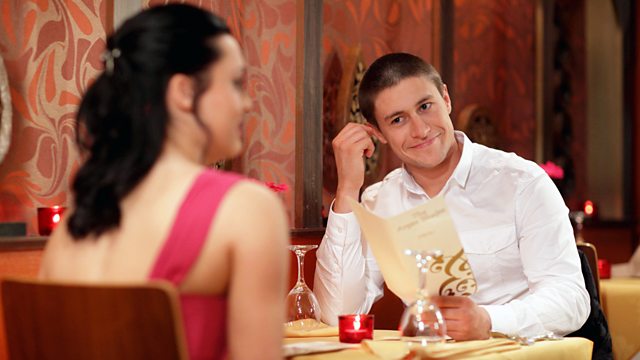 14/10/2011
Alfie moans to Ian that Kat barely notices him despite waiting on her hand and foot, and decides to adopt a 'treat 'em mean, keep 'em keen' mantra. Rejecting Kat's offer for a night in, Alfie sends her out to R&R, leaving Kat to put on a brave face. At the club, Kat spots a delivery man from earlier. Despite trying to resist his advances, she can't help herself and has sex with him in an alley way. Regretting his cold attitude towards Kat, Alfie discusses how much he loves his wife with Ian and Patrick and leaves her an apologetic voicemail. Later Kat sneaks into bed, guilt all over her face.
Masood discovers that Zainab has taken Kamil away and questions Syed over his mother's behaviour. Syed reminds him that they are divorced and Zainab can do what she wants. Syed informs Christian he has spoken to an old friend from law school - they have a fighting chance of gaining access but will need to play ball with Amira. Syed visits Masood, asking for his help, and states he's doing this with Christian or not at all. Masood tells him he can't reject fatherhood to suit his lifestyle. Syed points out that's exactly what Masood did when Syed came out. Masood agrees to help out his son, fondly telling Syed that he never hated him.
After receiving relationship advice from Dot, Whitney excitedly prepares for her date. Tyler, however, struggles to relax, the situation made worse by the presence of an old fling. Whitney assures him its fine - everybody has a past. When Whitney moves in for a kiss Tyler stops her, telling her he's happy to take things slowly.
Norman gets the impression that Jean is a bunny boiler.
Cora agrees to accompany Dot on the trip to Ireland.
Last on
Credits
| Role | Contributor |
| --- | --- |
| Kat Moon | Jessie Wallace |
| Alfie Moon | Shane Richie |
| Whitney Dean | Shona McGarty |
| Tyler Moon | Tony Discipline |
| Syed Masood | Marc Elliott |
| Masood Ahmed | Nitin Ganatra |
| Tamwar Masood | Himesh Patel |
| Christian Clarke | John Partridge |
| Roxy Mitchell | Rita Simons |
| Jean Slater | Gillian Wright |
| Norman Simmonds | George Layton |
| Kim Fox | Tameka Empson |
| Patrick Trueman | Rudolph Walker |
| Ian Beale | Adam Woodyatt |
| Dot Branning | June Brown |
| Cora Cross | Ann Mitchell |
| Rose Cotton | Polly Perkins |
| Arthur 'Fat Boy' Chubb | Ricky Norwood |
| Anthony Moon | Matt Lapinskas |
| Jack Branning | Scott Maslen |
| Mark | Chris Simmons |
| Executive Producer | Bryan Kirkwood |
| Director | Mickey Jones |
| Writer | Michael Begley |