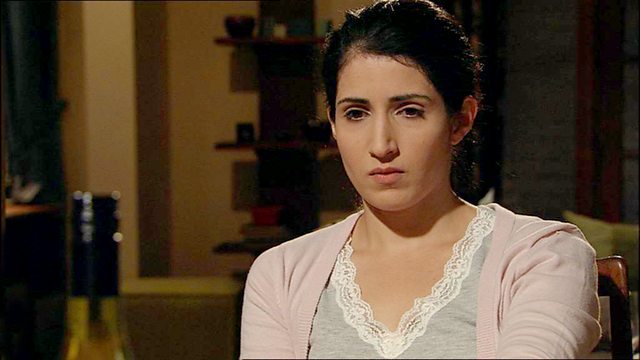 14/10/2011
It's a happy day in the Mullen household as they all think Lenny is leaving town. Kelly-Marie doesn't have the heart to burst her mother's bubble by telling her that she's just seen Lenny looking very much at home. She's also not going to mention the fact that she bumped in to Lenny at Ewan's grave with Callum the night before. Could that be why he's sticking around? Certainly looks like it when we see that Lenny has spent the intervening night searching through old family photos looking at pictures of Ewan at Callum's age. And there's a striking resemblance.
Lenny invites Kelly-Marie for a coffee. She reluctantly agrees - curious about why he's sticking around in Shieldinch. Lenny grills her about Callum's paternity and she does her best to shut down his enquiries before making a quick exit. Lenny decides to try a different approach and summons Jimmy to the office and hands him a wad of cash - 1000 pound sick pay to tide him and the family over until he's back on his feet. With his good deed done, Lenny heads to the garage to pay a visit to Bob, and he's a little less friendly this time as he demands the truth from Bob about Callum's dad. Bob stands firm, assuring Lenny that Michael is Callum's father. Lenny is having none of it and leaves in a rage, passing Kelly-Marie as he goes. He makes it very clear that he thinks she's lying. Rattled by Lenny, Kelly-Marie hurries home to pack a bag and get out of town with her son.Bob catches Kelly-Marie packing and enlists Scarlett's help to make her stay. Kelly-Marie reveals that Lenny is on to them. Scarlett tells her if she runs, it'll just confirm his suspicion. They have to stay calm and stick together. Kelly-Marie agrees to stay.
Later that night Jimmy is cooking the family a slap-up meal courtesy of Lenny Murdoch and the sick pay he received. Realising that it's just another attempt by Lenny to worm his way in with the family, Kelly-Marie takes the money to Amber Cabs and makes it very clear that Lenny's suspicions are wrong. She tells him to let it go and leaves. Back at the Mullens, Jimmy is raging, and rows with Scarlett about infecting Kelly-Marie with her overblown hatred of Lenny Murdoch and storms out. Scarlett realises that the only way she can support the family is to pawn her wedding ring. Lenny watches Scarlett and Kelly-Marie leave and seizes an opportunity to break in to the empty flat and try and find some DNA evidence. He's caught by Jimmy, but manages to bluff it so that Jimmy doesn't suspect anything. Lenny's lawyer Hamish tells him, respectfully, that he was foolish for trying to break in to the Mullens home, and if he wants the truth he's going to have to play the long game - keep his head down and let the dust settle.
Today is Michael and Leyla's second wedding anniversary, and Leyla is planning a surprise romantic dinner, just the two of them, despite the fact that Michael has clearly forgotten their special day. When a bunch of flowers arrives at the surgery Leyla assumes they are from Michael - he hasn't forgotten afterall, but she's embarrassed to learn that they're actually for Tatiana. Later that day, Tatiana takes a call from a posh Glasgow restaurant and is excited to tell Leyla that Michael isn't as much of a fool as they think - he's obviously got romantic anniversary plans of his own. With the temp to keep her right, Tattie assures Leyla that she can handle things at the surgery and sends her off to get herself ready for the big night out. Leyla sorts out a babysitter, but is mortified when Michael appears later in the evening to introduce his new business partner, Dr Dan Hunter, before taking him out for a slap-up meal to celebrate their new partnership. Gabriel is unable to leave a disappointed Leyla on her own, so postpones his hot date and spends the evening getting to know his sister-in-law. He sees another side to Leyla as she talks about her life before marriage and kids. When Michael returns he finds Leyla a little worse for wear, and she wastes no time in angrily explaining why she's drunk, revealing his forgotten anniversary and embarrassing him in front of Dr Dan.
It's Hayley's birthday at the salon, but she's the one with the surprise in store as she introduces Robbie and Jack to new stylist Frances Keener. Frances was at Thomas McCabe's funeral the day before, and showed particular interest in Lenny Murdoch. Jack flirts with Frances but it's clear he's not going to get anywhere. Frances tells him she's not up for a relationship - she's back in town because her mother is ill and that's all she's got time for. Men are off the menu. Jack accepts that and heads off. He returns a little later because he's left his wallet behind and spots Frances talking to Lenny at the bar - what's she up to?
Last on
Credits
| Role | Contributor |
| --- | --- |
| Lenny Murdoch | Frank Gallagher |
| Kelly-Marie Adams | Carmen Pieraccini |
| Frances Keener | Andrea Hart |
| Jimmy Mullen | Billy McElhaney |
| Scarlett Mullen | Sally Howitt |
| Leyla Brodie | Maryam Hamidi |
| Michael Brodie | Andy Clark |
| Nicole Brodie | Holly Jack |
| Conor Brodie | Rian John Gordon |
| Hayley McCrone | Pamela Byrne |
| Robbie Fraser | Gary Lamont |
| Jack Paterson | John Comerford |
| Gabriel Brodie | Garry Sweeney |
| Bob Adams | Stephen Purdon |
| Tatiana Michalka | Magdalena Kaleta |
| Raymond Henderson | Paul Samson |
| Bob O'Hara | Tom Urie |
| Annie Sobacz | Reanne Farley |
| Adeeb Brodie | Taryam Boyd |
| Dan Hunter | Adam Robertson |
| Hamish Johnston | Stewart Preston |
| Charlie Bowie | Ryan Smith |
| Producer | Donald MacKinnon |
| Director | Pat Harkins |
| Writer | Joanne Logue |