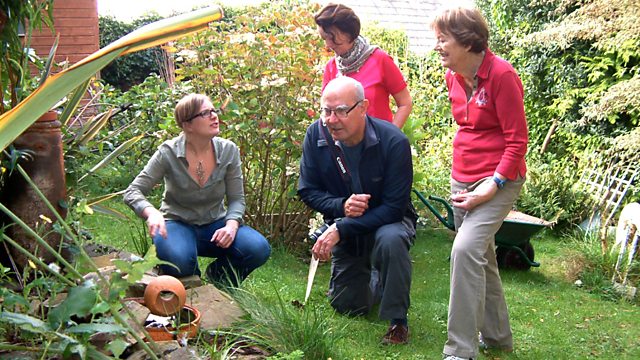 Wiltshire
Listen in pop-out player
Eric Robson chairs a gardening Q&A with Matthew Wilson, Anne Swithinbank and Bob Flowerdew in Wiltshire.
Christine Walkden advises on maximising autumn colour and guest presenter Kate Bradbury visits Jenie Eastman in her garden in Portishead, Part of the Listeners' Gardens series. Find out what a Snake's Head Fritillary can do for a bumble bee, or a pile of leaves can do for frog spawn.
Then some discussion on soil enrichment: Lime, mattresses and dead donkeys - they all have their uses!
Questions answered in the programme:
I would like planting suggestions for my large, deep, stone troughs.
Suggestions included Sempervivum [Houseleeks] and Melianthus major [Honey bush].
What are the brown spots on my Quince Nivalis?
How can I improve greensand and clay soil for better veg yields?
What is eating my beetroot?
Can the panel suggestion an alternative climber to Virginia Creeper?
Why do the leaf tips my Spotted Laurel turn black?
How do I tackle the Rhus Typhina shoots coming up from my neighbours garden?
Produced by Lucy Dichmont
A Somethin' Else production for BBC Radio 4.
Last on