Add music you love and enjoy it with
Country Showstopper Choice

OPTION A : Secret Sisters – Tennessee Me
OPTION B : Bellamy Brothers – Let Your Love Flow
OPTION C : Kenny Rogers – Lady
OPTION D : Shania Twain – You're Still The One

Choose your Showstopper by texting the word COUNTRY plus your choice A, B, C or D – ***with no gaps *** - to 88291.

Texts are charged at your standard message rate.You have until 6.45 tonight…then join Bob Harris after 7 for the best in Country.

Confession - Put The Boot In

Dear Simon, Mother superior and listeners.

This confession is written in the hope of lifting from my shoulders a terrible weight I have carried for too many years.

It was 1979, Margaret Thatcher was coming to power and the tractor
industry was thriving. I was a young agricultural engineering attending a college which was sited in a wonderful old building which when I drove past recently, I discovered has since become an executive housing development. I think it is now at last safe to release the awful truth as all records of my existence there must have been erased.

I was one of 2 young students, each of whom were renting a room in the
house of a landlady called Mrs Winterbottom, a rather fearsome woman who
could destroy you at 50 paces with the power of her tongue. Mrs Winterbottom's biggest rule in the house was that we were NEVER, EVER, EVER EVER to come into her house (our digs, but very clearly her house, and her carpets, which we shall come to....) wearing the safety boots we had
to wear in the workshops of the college. These boots inevitably became
covered in oil and grease and would make terrible and extremely
difficult- to- remove stains on her expensive carpet. This quite
reasonable message was put clearly and with some force to me and my student peer Dan.

In those days students would sometimes have 'liquid dinners' in the pub
on the way home and not actually get back to their place of abode
until quite late. It was after one such evening, that I'd managed to
find the correct house I was staying in (unlike yesterday's Confessor), found the door key and managed to stumble halfway up the stairs before I realised I still had my forbidden boots on, which were indeed soaked in oil and grease of the type used by agricultural machinery of the day.

At this stage of the evening, the call to my bed was strong, so strong
it was irresistable, and yet, even in my 'tired condition' from my time
in the pub, the realisation of what my actions were going to result in
were clear, as Mrs Winterbottom was going to go nuts. I stopped in my tracks, looked around, and could see an incriminating series of dark boot
prints coming up the stairs behind me to where I stood. My fate was
sealed, unless I could come up with some way to lead the evidence away
from me, otherwise I was going to be toast.

In a surprisingly quick moment given my state, and without too much reflection, I walked up to the door of Dan's room, took off my boots and
carried them into my own room, where I enjoyed a sleepful night. I left
early the next morning for college, as I had urgent things to attend
to there, and in the process happened to avoid Mrs Winterbottom and Dan
from across the corridor.

Nursing a sore head, and with a full days' learning about agricultural
machinery in my head, by lunch time I had forgotten all about the
previous evening and when I returned to my digs that evening I
happened to bump into Dan, who was looking visibly shocked. He had,
it seemed, received a terrible dressing down from our landlady, who'd
had to spend many hours on her knees trying to remove grease and
oil stains from her precious carpet, and had vented her full complex of pent up frustration on Dan's return from his studies. "But what I can't
understand" said Dan, rather pathetically, and with a trace of a tear in the the corner of his eye, "Is that I didn't wear any boots yesterday, my shoes were clean and I took them off when I came in, or I think I did, but perhaps I didn't, because Mrs Winterbottom said the footprints came right up to my door".

I looked surprised, and said I hoped he would try to make REALLY sure he didn't wear boots in the future. I denied any knowledge of the event and quickly retired to my room, eager to catch up with the concept of axial flow combine harvesters.

Whilst it didn't weigh on me heavily at the time, over the years the
memory of the event has grown like a millstone around my neck, and now
some 31 years later, I have moved back to the area and the weight
is even heavier. I hereby confess and ask for forgiveness

Yours

Mark

Chicken Pie

By: Tamasin Day-Lewis From: Tamasin's Great British Classics

Prep time:1 hr 45 min

Cook time: 2 hrs 15 min

Serves: 4

Ingredients

For the chicken

1.5 kg free-range chicken

1 carrot, diced

2 sticks celery, chopped

1 onion, chopped

6 black peppercorns

1 bunch mixed herbs

For the pastry

340 g plain flour

170 g butter

For the vegetables

2 carrots, sliced into thick discs

2 stalks celery, chopped

2 leeks, white party only

2 onions, quartered

For the béchamel sauce

55 g unsalted butter

55 g flour

150 ml full-cream milk

150 ml chicken stock

150 ml double cream

2 sprigs tarragon, chopped

1 small bunch flat leaf parsley, chopped

Black pepper

1 egg, beaten to glaze

Method

1. Put the chicken in a saucepan with the vegetables, peppercorns and herbs. Cover with water, cover the pan and slowly bring to the boil. Cook for 50-60 minutes, until tender. Turn the chicken over half way through the cooking time.

2. To make the pastry, combine the flour and salt in a large bowl. Rub in the butter until the mixture resembles fine breadcrumbs.

3. Stir in enough iced water to bring the mixture together into a smooth dough. Roll half of the pastry out to line a 23cm pie dish or plate and chill for 30 minutes, or until required.

4. Place the carrots into a steamer and steam for 5 minutes.

5. Add the celery and steam for 2 minutes more.

6. Slice the leeks and add them to the steamer with the onions. Cook for a further 5 minutes.

7. Preheat the oven to 180C/gas 4. Place a baking sheet on the middle shelf of the oven to heat up.

8. When the chicken has cooled down sufficiently to handle, remove the flesh from the bones, peeling off the skin as you go. Tear the flesh along the grain, pulling it into long bite-sized pieces.

9. To make the sauce, heat the butter and flour together in a saucepan and cook for 3-4 minutes, stirring continuously.

10. Whisk in the milk and chicken stock, until the sauce is thickened and smooth.

11. Stir in the cream. Remove from the heat, season and add the chopped fresh herbs.

12. Stir in the chicken and vegetables and leave to cool.

13. Spoon the filling over the pastry. Roll the remaining pastry out to make a lid and lay it carefully over the chicken mixture. Crimp the edges together with the tines of a fork dipped in cold water.

14. Brush the top with beaten egg. Cut a cross in the middle of the pie right through the pastry to allow the steam to escape as the pie cooks.

15. Bake for about one hour, until golden. Remove from the oven and leave to rest for 10 minutes before cutting into slices and serving with vegetables of your choice.
Watch Simon's Edinburgh Book Club Special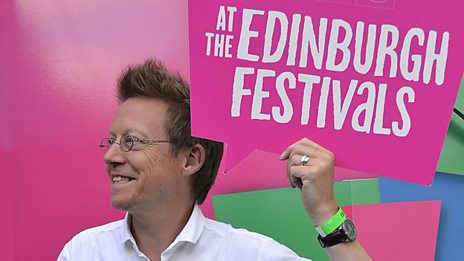 See Simon host a special Radio 2 Book Club live at Potterrow.
Podcasts
Simon Mayo considers listeners' darkest secrets and worst misdemeanours, as they beg for his…

The best bits of Simon Mayo Drivetime on BBC Radio 2, with star guests, audience interactivity,…