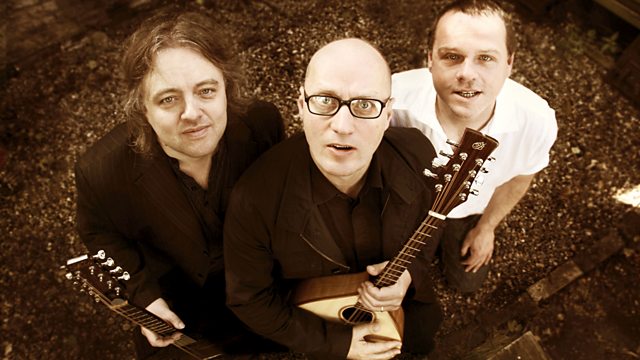 08/10/2011
Clive Anderson and guests with an eclectic mix of conversation, music and comedy.
The 'Young One' Adrian Edmondson comes to the Loose Ends Studio and this time he's herding in his musical flock, The Bad Shepherds with members Troy Donockley and Andy Dinan. The folk band have released two successful albums and played many festivals across Europe and are now about to embark on a 21-date 'First Farewell Tour'.
Adrian was also a member of another band 'The Comic Strip' and joining him in the studio will be fellow stripper Peter Richardson. Originally partnered with Nigel Planer, Peter setup 'The Comic Strip' comedy club in London which led to The Comic Strip Presents.... a series of comedy films for Channel 4. Peter talks about writing, directing and appearing in his latest effort 'The Hunt For Tony Blair' and its all star cast.
David Baldacci is an international author with over 20 best selling novels with over 100million copies in print. (The most famous copy is probably the one photographed in former President, Bill Clinton's hands!) David tells us about his latest thriller 'The Sixth Man'.
Plié, heel turn, cha-cha-cha and relax. Nikki Bedi has been practicing and is now ready to welcome Louie Spence, famous for his Pineapple Dance studios and accompanying TV series. Nikki talks to Louie about which leg warmers to buy and his new autobiography 'Still Got It, Never Lost It!'.
Bringing some fun folk to the studio is Adrian Edmondson with his band The Bad Shepherds who play I Fought The Law. And some funny musical tales from the virtuoso pianist, rapper and all round entertainer Chilly Gonzales who plays 'Oregano/Dot Medley' from his latest album 'The Unspeakable Chilly Gonzales'.
Producer: Cathie Mahoney.
Last on
Listen to Loose Ends anytime, anywhere.