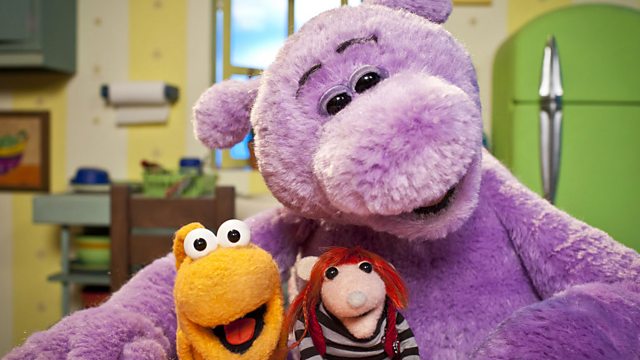 Big has finished repairs to his boat and is ready to set sail: Big and Small are going to be water explorers and explore the pond! The two friends are all aboard and ready to go - but first they have a special picnic to enjoy. Big and Small feel so sleepy after eating the meal that they fall asleep in the sun. A fog rolls in while they sleep.
When Big and Small wake up - all they can see is fog: they have lost sight of land. Small thinks they have drifted off to sea and are miles away from their home. They hear a frog croak. This is actually one of the frogs who lives on the pond but Small is convinced it is the sound of a giant frog who lives on Misty Island: Small has read all about the giant frogs of Misty Island in a comic book.
Big tries to send a friendly note over to 'Misty Island' but he only has a boomerang and the note flies back onto the boat. Then, Big and Small accidentally make a hole in the boat and, to stop water coming in, have to use a cupcake as a plug!
Last on