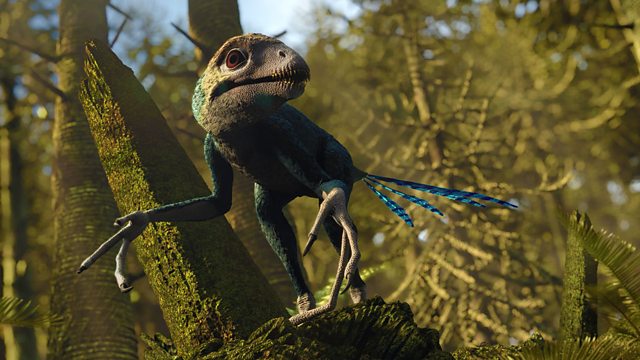 The second episode of the documentary series takes a look at bizarre and extraordinary feathered dinosaurs, many of which have only just been discovered. These feathered beasts are revolutionising our understanding of life on Earth as they blur the boundaries between what we know of dinosaurs and birds.
China sits at the heart of the feathered dinosaur discoveries and is the home of one of the most unusual discoveries on Earth: the epidexipteryx. Only the size of a pigeon, this predator was the most bird-like of any dinosaur and is the first known case of ornamental feathers.
But feathers were not just confined to the small. From caudipteryx to sinosauropteryx and the eight-metre-long gigantoraptor, feathers may have been used for flight, for insulation or even to attract. These dinosaurs not only hint at how animals might have developed flight, but also suggest that dinosaurs may still live among us today - as birds.
Last on
Credits
| Role | Contributor |
| --- | --- |
| Narrator | John Hurt |
| Executive Producer | Andrew Cohen |
| Series Producer | Nigel Paterson |
| Director | Nigel Paterson |
Buy online
Buy online
Available on: DVD, Blu-ray or Video download
From suppliers including: BBC Store, iTunes